Cost to UK of action in Libya 'reaches £100m'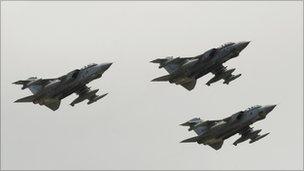 The cost of military operations over Libya to the British taxpayer has reached £100m, the BBC understands.
When the campaign began, Chancellor George Osborne said the cost of British involvement in Libya would be "modest" when compared to Afghanistan.
At the time, he estimated it would cost "in the order of tens of millions of pounds, not hundreds of millions".
The Ministry of Defence said it is too early to provide exact figures.
Mr Osborne has said that additional costs of the military campaign would be met by Treasury reserves.
Military strikes against Col Gaddafi's forces began on 19 March.
A few days later Mr Osborne said that "the initial view is that they [operations over Libya] will be in the order of tens of millions of pounds, not hundreds of millions".
On Monday British forces hit facilities in Tripoli thought to play a key role in Col Gaddafi's rule in Libya, the Ministry of Defence (MoD) has said.
The MoD said the attack hit intelligence agency buildings and a base of Col Gaddafi's "executive protection force".
It is two months since UN Security Council Resolution 1973 authorised air strikes to protect Libyan civilians.
The UN vote followed the violent suppression of protests against Col Gaddafi's regime.
On Monday, Defence Secretary Liam Fox said Nato bombing strikes would not end until Col Gaddafi stopped "slaughtering" his own people.
Some 23 RAF aircraft and two Royal Navy warships are committed to Operation Ellamy, the Ministry of Defence's codename for operations in Libya.