Oxfam launches appeal for stock donations after fire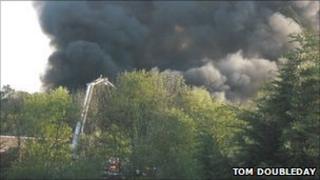 Oxfam has launched a national emergency appeal for stock following a fire that caused the biggest loss of donations in its 69-year history.
The charity is asking people to take any unwanted clothes and accessories to their local shop or donation bank.
The fire on 30 April destroyed Oxfam's whole sorting and recycling facility, which is based in Huddersfield.
The appeal is being backed by Whistles boss Jane Shepherdson and Red or Dead founder Wayne Hemingway.
Ms Shepherdson called for people to donate any clothing, shoes or accessories to "make a huge difference".
She said: "Oxfam shops aren't just a British institution; they're a vital part of Oxfam's work fighting poverty around the world. The damage caused by this fire is a huge blow not only for Oxfam, but for charity shoppers and fashion fans across the country."
Festival sales
The Wastesaver centre is primarily a site for sorting and processing stock, much of which is for the charity's festival shops.
These raised £250,000 last year and are planned to be at seven music festivals this year, including Glastonbury and Bestival.
Oxfam spokesman Stuart Fowkes said that Oxfam's High Street charity shops would not be affected by the fire.
"The main issue is that the festival season is a big money-earner for us, and it begins next month," he said.
"The stock that we've lost is mostly for the festival season, and that's what we urgently need to replace."
'Unprecedented'
The charity's trading director, David McCullough, said that staff had been "absolutely amazing, showing incredible spirit and resilience to get our sorting operation back up and running in the toughest of times".
He added: "We'll be back up to full operations again very soon, but the situation is so severe and unprecedented that we've launched an emergency appeal for stock for the first time in our history."
Oxfam said it was the only charity to have its own textile sorting centre. Before the fire, Wastesaver handled 800 tonnes of surplus clothing and textiles per month and managed 600 book banks and 700 clothing banks.
The fire destroyed the entire processing facility which contained hundreds of thousands of pounds worth of specialised machinery and stock donated by the public.