Cruise ship MSC Opera breaks down in Baltic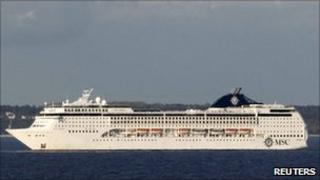 A cruise ship carrying about 400 British passengers is being towed into a Swedish port after developing technical problems in the Baltic.
Tugs were sent to the MSC Opera after it lost all electrical power off the island of Gotland on Sunday morning.
The ship's Italian-owned operators said the engines had to be switched off.
The MSC Opera left Southampton on 7 May with 1,800 holidaymakers for a trip taking in Copenhagen, Helsinki and St Petersburg and was due back on Tuesday.
Julia Hunter from Glasgow told the BBC the situation on-board the ship is now calmer.
'Packed our bags'
"The conditions yesterday were dreadful - we had no power, so there was no lighting, heating or hot food or drinks. Worst of all, with no running water, we had no access to toilets all day," she said.
"The power has come back on now, so the situation is better. We've packed our bags and we can see land now.
"The atmosphere is very subdued, though. Yesterday everyone was very angry but we are all calmer now."
Swedish coastguards confirmed the MSC Opera was under tow and due to arrive at the port of Nynashamn near Stockholm at around 1000 BST. A coastguard vessel is also on its way to the ship.
Guests repatriated
Passengers were not getting hot meals but the company says they are "being taken care of" and would be given flights home.
In a statement it added: "Not being able to offer to its guests the usual standards of service, MSC is organising the repatriation of all guests... from Stockholm."
It added that passengers would be given credit vouchers for the full value of their trip.