Royal Marine killed in Afghanistan explosion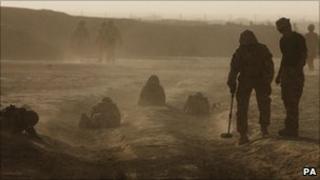 A Royal Marine from 42 Commando has been killed in Afghanistan, the Ministry of Defence has said.
The marine was killed by a bomb while involved in an operation to search a compound in the Loy Mandeh Wadi area of the Nad Ali district of Helmand province on Sunday.
The marine's next of kin have been informed.
It means the number of British military deaths in operations in Afghanistan since 2001 now stands at 365.
Lieutenant Colonel Tim Purbrick, a spokesman for Task Force Helmand, said the marine, who was from Plymouth-based 42 Commando, had been involved in an operation which was "investigating suspected insurgent activity" in a number of compounds in the Loy Mandeh Wadi area of the Nad Ali district in Helmand Province when he was fatally injured.
He added: "Our thoughts and prayers are with his family and friends."
Last week, the head of the armed forces said Britain had failed to accurately gauge Taliban resistance to UK troops in Helmand province.
General Sir David Richards told the Commons defence committee UK troops "turned up a hornet's nest" when they moved into south Afghanistan in 2006.
"There was, in some respects, a failure of intelligence despite the efforts to get it right," he said.
About 3,300 British troops took over control of Helmand five years ago.
The government has said it wants all British combat troops to leave Afghanistan by 2015.
In February, Defence Secretary Liam Fox suggested some of the UK 10,000 personnel based there could come home this year if "conditions on the ground" were suitable.