London Zoo criticised over death of baby gorilla Tiny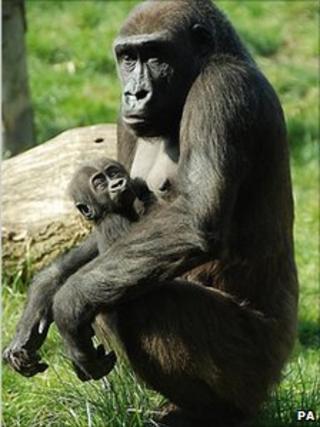 A leading evolutionary anthropologist has called London Zoo "incompetent" over the death of its baby gorilla in an attack by a silverback.
Professor Volker Sommer said he was "bewildered" why seven-month-old Tiny was introduced to new male Kesho.
In the wild, when a new male takes over an existing group, there is a danger he will kill any young fathered by other males to ensure his genes survive.
London Zoo said it took expert advice and did all it could to cut the risks.
The young western lowland gorilla, who was fathered by a male that died last year, was injured on Thursday when he and his mother Mjukuu were introduced to Kesho for the second time.
Vets believe Tiny, the first gorilla to be born at the zoo for 22 years, may have suffered internal injuries following a scuffle in which he broke an arm.
The infant underwent a three-hour operation to pin his arm but vets were unable to revive him.
Prof Sommer, an advisor to the International Union for Conservation of Nature on great apes, said introducing Tiny to the silverback "ignored findings accumulated over the last 40 years".
'Blunder'
In a letter to the Zoological Society of London (ZSL), he said: "What on Earth did ZSL expect to happen? Any undergraduate student of zoology could have told you what to expect!
"How can it be that ZSL, an organisation known for being guided by scientific knowledge, ignores findings that have been accumulated over the last 40 years?"
He said those responsible should no longer keep apes if the zoo was not up to scratch with what science told us.
The letter added: "Sorry, but the word 'incompetence' comes to mind for those responsible for this blunder.
"As a logical conclusion, London Zoo should not keep apes anymore."
Kesho's arrival last year was recommended by experts to create a cohesive social group, after the death of the zoo's previous male gorilla.
In the wild male gorillas often attack the offspring of their rivals, so staff were cautious about introducing Kesho to the baby, who was the offspring of the former male.
Kesho had been gradually introduced to the two other female gorillas at the zoo but keepers waited many months for an introduction to the youngster and his mother.
London Zoo said it took advice from the European Association of Zoos and Aquaria's European endangered species programme (EEP), and did all it possibly could to lessen the risks.
It said keepers felt it would be unnatural to keep female gorillas without a male leader.
"We always knew the risks and were very open from the beginning about the fact that bringing a new male into a situation where a female was pregnant by another male was very challenging," a ZSL spokeswoman said.
"We held a press conference in August at the science media centre to explain all of this. However, we were advised by the EEP at the time to find a new male for the long-term welfare of the group as a whole.
"It would be unnatural to keep female gorillas without a male leader and would not have met their complex social needs satisfactorily.
"We did all that we possibly could to mitigate the known risks but fundamentally we cannot stop wild animals exhibiting their natural behaviours, and neither should we."