Military covenant: 'Troops deserve recognition'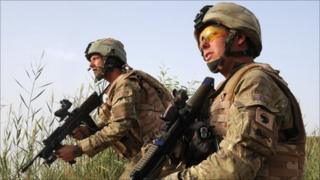 The Defence Minister, Andrew Robathan, has indicated that the military covenant, which aims to ensure that soldiers and their families are rewarded for their sacrifices, will be enshrined into law.
Former service personnel and their relatives have contacted the BBC to explain how the legal changes could affect them.
Edward, Alnwick, Northumberland
The government has promised to rebuild the military covenant but I expect these proposals will be watered down so much that it will be fairly meaningless by the end.
I completed over 35 years in the RAF and one thing I learnt was do not trust the MOD and never trust any politician.
One of the first things Cameron and Co did when they got into power was to devalue every military pension by removing the link with the RPI.
This will have a cumulative effect which in turn will help to impoverish thousands of former servicemen and women.
Even a points system which allocated resources to personnel based on how many years they served would be a better compromise.
There is low morale amongst those serving and it will be worse if this government reneges on its promise.
I was encouraged to leave the RAF at 55 years old. Although given the choice I would have continued to serve. I do receive an adequate pension but it does not cover all my living expenses.
I think service personnel are vulnerable when they leave the forces. For the first time in 35 years I have had to find a dentist. In the RAF I received free medical care and free eye tests. I think we should be given priority when it comes to housing and health.
I understand there are lots of charities dedicated to helping veterans. They do exemplary and valuable work but this support shouldn't fall to charities. There's a real feeling amongst all my former colleagues that this is something the government should be doing.
You can argue that with the squeeze on public finances and millions of veterans to look after, there's only so much the government can reasonably be expected to do. But service personnel and their relatives deserve recognition for the sacrifices they have made on behalf of this country.
In my opinion the government needs to set in law a military covenant between the nation and the armed forces.
Sandra, Dorking, Surrey
The government does not have the money to adequately fund these proposals or keep them in place.
The covenant doesn't go far enough to protect the present or future of our armed forces.
It's disgusting that these troops protect this country at a moments notice and yet they are not looked after the way they deserve.
My husband served 32 years and when he went to Iraq he was sent home with a list of things to buy before departing because our government didn't supply it.
Servicemen and women are treated like second class citizens. When the fire brigade had a strike over pay, my husband was earning just over £11,000 - while fire-fighters were trying increase their salaries to £24,000. A figure they considered a decent living wage.
When this new covenant is enshrined it will be too late for my family. My husbands character has been irrevocably altered by his tours in various war zones.
He returned from Iraq five years ago. He now oscillates between short fits of rage and weeping uncontrollably. The toll on our family life is immeasurable.
The government has let us down and many other families across the country.
Vikki, RAF wife
Our family moves every 18 months to 2 years.
That means a different area to get to know and new schools in which the children must be enrolled.
It also means finding a doctor and then transferring our medical information.
Once our family has been registered with a surgery I have the unenviable task of trying to find that rare breed - a local NHS dentist, which is a complete nightmare.
My children are forced to leave their friends and have to build new relationships. We all have to start again.
Moreover, my husband gets sent away on tour at least four months at a time.
The police and fire-fighters do not have to go through the same trauma.
What we need are proper terms of service. We want the government to recognise the danger our partners face and disruption this causes to family life.
There should be proper provision for the families of all those injured or killed.