'Twitter ban' issued by High Court judge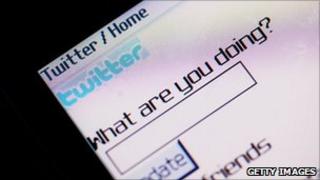 An injunction which bans publication of information on Twitter and Facebook has been issued by a High Court judge.
It is thought to be the first specific ban on publishing information on any "social network or media including Twitter or Facebook", plus other media.
It was made by Mr Justice Baker in the Court of Protection, which is linked to the Family Division of the High Court.
Orders to prevent children being identified usually ban publication in print, websites and media broadcasts.
The order by Mr Justice Baker was issued in a case involving a woman, who can be referred to only as "M".
She has been in "a minimally conscious state" since suffering from swelling of the brain stem, which caused serious damage and wasting to the brain.
The woman suffered the illness in 2003, when she was 43, and has been minimally conscious since then.
Her mother applied to the Court of Protection - which deals with cases of those who are unable to make their own decisions on medical care or other issues - for an order that those who are looking after M could withdraw nourishment and medical treatment and allow her to die, while giving her the care and treatment she needed to suffer the least distress and maintain as much dignity as possible.
English courts jurisdiction
Mr Justice Baker had already issued an injunction in the case banning the media not merely from publishing information which could identify anyone involved in the case, but also from contacting a list of 65 people who were connected with it, including M's relatives and care home staff.
The new order, which was attached to a judgment handed down on Thursday, bans the identification of the parties and other people, and the care home or NHS Trust responsible for treating M.
It also bans anyone from making any attempt to contact a variety of people, including M's mother, sister and husband, or going within specified distances of certain people and locations.
The specific ban on publication of information on social media comes after a user of the Twitter website used it to publish details of individuals who had allegedly obtained injunctions banning the media from publishing stories about their private lives.
However, legal observers believe it could be difficult to enforce because both Twitter and Facebook are run by companies in the US, which are outside the jurisdiction of the English courts.
This could make it difficult to trace the identity of anyone who posted material.
The Court of Protection Rules specify that cases are usually heard in secret.
However, it does allow for exceptions in which cases can be heard in public, subject to reporting restrictions protecting the identities of the parties.
Meanwhile, a blogger who published the full text of a gagging order online has said he did so because he did not agree with the idea that people should be able to go to court to silence others.
It is thought to be the first time that a person who can be identified - the blogger's name, address, phone number and two e-mail address appear on his blog site - has published a full copy of an injunction online.
The move marks the latest stage in a growing internet backlash against secrecy orders issued by English courts.