RAF Reaper drones to be remotely controlled from UK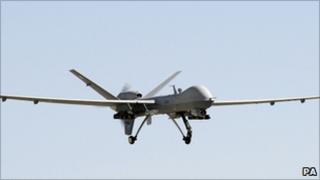 A new squadron of unmanned aircraft operating in Afghanistan will be controlled for the first time from a base in the UK.
Air Chief Marshal Sir Stephen Dalton said the new squadron of drones, known as Reapers, would be based at RAF Waddington in Lincolnshire.
Reapers, which have high-tech sensors and laser-guided weapons, are currently controlled by RAF crews in the US.
Air Chief Marshal Dalton said the move would make the force "more efficient".
He said: "This transition will see us bring Reaper mission control to the UK, make more efficient and effective use of our resources in exploiting this growing capability and enable the operation of significantly more combat intelligence, surveillance, target acquisition and reconnaissance aircraft over Afghanistan 24 hours a day."
Reapers are used to spy on insurgents and are almost undetectable from the ground.
The Reapers will take on squadron number XIII after the current unit, flying Tornados from RAF Marham in Norfolk, is disbanded.
'Fantastic contribution'
XIII Squadron was originally formed in 1915.
Air Chief Marshal Dalton said: "The Royal Air Force is today delivering air power operations in Afghanistan, Libya and the Falkland Islands and, as XIII Squadron's Tornados have shown, making a fantastic contribution to the very positive progress in the military campaigns in all these locations.
"I am confident that XIII Squadron's reputation and distinguished history will be carried forward as it transitions to be a part of our remotely piloted force employing the Reaper over Afghanistan."
Defence Secretary Dr Liam Fox said: "Reaper aircraft are providing valuable support to our frontline troops in Afghanistan.
"We are committed to providing the best available equipment to our armed forces.
"The formation of this new squadron follows our doubling of the Reaper capability to 10 aircraft, which represents an increased investment of £135m."
"This extra squadron will help us get the best out of this valuable armed reconnaissance aircraft," added Dr Fox.