Sienna Miller awarded £100,000 over phone hacking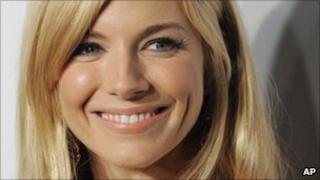 Sienna Miller is set to accept £100,000 in damages from the News of the World, after the paper admitted liability over the hacking of the actress's phone.
The newspaper will make a full disclosure in private to her legal team to show the extent of all wrongdoing.
Lawyers for Ms Miller said there had been a full admission of liability and that she had been vindicated.
The News of the World said it was "pleased we have managed to bring this case to a satisfactory conclusion".
"Several weeks ago we admitted liability in certain cases and offered a genuine and unreserved apology. We hope to resolve other cases swiftly," the newspaper's statement said.
8,000 e-mails
"For the record, reports that we have been ordered to disclose 8,000 e-mails to Ms Miller are inaccurate.
"The error stems from a reference in court to the fact that a total of 8,000 e-mails were being searched to ascertain whether any Sienna Miller-related material was amongst them."
Following a two-day hearing at the High Court, Mr Justice Vos indicated he would give his full judgment next week.
Four alleged victims have already reached out-of-court settlements with the newspaper, including celebrity publicist Max Clifford, who received a reported £1m.
On Thursday News Group's QC, Michael Silverleaf, told Mr Justice Vos at the High Court it admitted liability unconditionally for all the wrongs alleged by the actress and accepted responsibility for compensating her.
Ms Miller's counsel, Hugh Tomlinson QC, said the proposed settlement would include the provision of information by the News of the World "concerning the extent of the wrongdoing".
'Harassment'
Mr Tomlinson said: "I make the position clear that Ms Miller is proceeding in this way precisely because Mr Silverleaf indicated yesterday all her claims have been admitted - misuse of private information, breach of confidence, publication of articles derived from voicemail hacking and a course of conduct of harassment over a period of more than 12 months.
"In those circumstances, her primary concern is not how much money is awarded by way of compensation but to know exactly what the extent was of the hacking which took place and, having obtained an order which will enable her to know that - so far as it is knowable - that meets all her requirements from this action."
The settlement is likely to be formalised by the court next Friday.
The News of the World's admission to Ms Miller marks a new chapter in a scandal which dates back to 2006, when the paper's former royal editor Clive Goodman and private investigator Glenn Mulcaire were jailed for hacking into the mobile phone voicemails of royal aides.
Since then, a series of inquiries and legal cases have been exploring just how widespread the practice was, with implications for the police, celebrities and politicians.
More and more celebrities and public figures have alleged their phones have been hacked and some have launched legal actions against the paper or the police for allegedly failing to investigate.
News International, which is owned by Rupert Murdoch, has offered to co-operate fully with a Metropolitan Police inquiry.
The News of the World's chief reporter Neville Thurlbeck, 50, and former news editor Ian Edmondson, 42, were arrested last month on suspicion of having unlawfully intercepted voicemail messages. They were released on bail until September.
Speaking to the BBC's Newsnight programme, actor Hugh Grant described the invasion of privacy by tabloid newspapers as a "massive scandal".
Mr Grant said police had told him he had been a victim of phone hacking although he did not specify which publication was involved.
He said: "To me there is no distinction between mugging someone for their wallet and watch and selling it on the street and mugging them for their privacy and selling it in a newspaper."
Mr Grant added: "It doesn't feel right that just because you've had a bit of success, one of the most basic human rights is in this country is effectively removed from you."