Met Police 'bring expertise' to Madeleine McCann search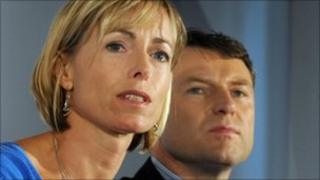 The Metropolitan Police are to "bring their expertise" to the search for Madeleine McCann, the Home Office says.
Madeleine went missing aged three on holiday in Portugal in May 2007, and David Cameron has agreed to ask for a review of the case.
Met Police Authority member Lord Harris said Mr Cameron's intervention damaged the independence of the police.
But Downing Street and Scotland Yard have both denied the government ordered the force to investigate.
Scotland Yard said Commissioner Sir Paul Stephenson had "received a request, which he considered, and took the decision that on balance it was the right thing to do".
A Downing Street spokesman said Mr Cameron and Home Secretary Theresa May asked the Met to review the evidence after a new plea by parents Kate and Gerry McCann from Leicestershire.
He said the case was "exceptional" and that the prime minister "has been clear that he wants to do everything he can to support the family".
'New perspective'
The McCanns said in a statement: "The expertise of the Metropolitan Police is renowned and we are reassured by our government's commitment to the search for Madeleine."
Their spokesman Clarence Mitchell added: "This is exactly what Kate and Gerry have been asking for. They wanted an independent force to examine everything, basically."
The official Portuguese inquiry into Madeleine's disappearance ended in July 2008 although private detectives hired by the McCanns have continued the search.
Home Secretary Theresa May, whose department will pay for the review, said it was hoped the Met "can bring a new perspective to the case".
A Home Office spokesman said: "Law enforcement agencies here [in the UK] have continued to follow up leads and pass information to the Portuguese authorities as appropriate."
But Lord Harris, a Labour peer who is a member of the Metropolitan Police Authority, said decisions about operational matters should be made only by senior officers.
'Worst nightmare'
He said David Cameron's intervention "drives a coach and horses through the draft protocol issued by the Home Office designed to preserve the operational independence of the police."
Writing on his blog, he said that while it was desirable to find out what had happened to Madeleine McCann, he did not think senior leadership at the Met would be happy.
"It again embroils their officers in a high-profile investigation, where the chances of success are unclear, and which will divert limited investigative resources away from other matters."
In an open letter in the Sun on Thursday, Madeleine's parents had asked Mr Cameron to launch an "independent, transparent and comprehensive" review of all information relating to the disappearance of their daughter.
In his reply, published by the same newspaper on Friday, Mr Cameron said their ordeal was "every parent's worst nightmare".
He wrote: "I simply cannot imagine the pain you must have experienced over these four agonising years, and the strength and determination you have shown throughout is remarkable.
"I have asked the home secretary to look into what more the government could do to help find Madeleine.
"She will be writing to you today, setting out new action involving the Metropolitan Police Service which we hope will help boost efforts in the search for Madeleine."
Former Home Secretary Alan Johnson commissioned a scoping exercise by the Child Exploitation and Online Protection (Ceop) centre to look at the feasibility of carrying out a review of the case.
This was completed in March 2010, but Mr McCann said current Home Secretary Theresa May refused to let him and his wife see it because it was "sensitive".
British police were involved in the Portuguese investigation from the early days.
That involvement included the Forensic Science Service carrying out testing on samples sent to their laboratories in Birmingham; and various British police forces, co-ordinated by Leicestershire police, providing translators, family liaison officers, child abduction experts and specialist sniffer dogs.