All UK veterans deserve a medal, say campaigners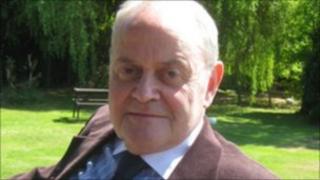 Campaigners are fighting for the government to award a national defence medal for all veterans, arguing that everyone who served their country in the Armed Forces deserves recognition.
They want a National Defence medal to be awarded by the Queen - as happens in Australia and New Zealand - rather than the current UK veterans' badge brought in under Labour.
But retired Colonel Terry Scriven, who is now national Chairman of the Liberal Democrats Friends of the Armed Forces and battling on behalf of veterans, said the idea has been rejected in the past.
"For whatever reason, the MoD has dealt with hundreds of thousands of veterans over the past 60 years in a very shallow, shabby and shameful way," says Mr Scriven, who joined the Army at the age of 15, serving with the Royal Military Police in Northern Ireland, Cyprus and Bosnia.
"The question must be: why would you, as a nation and a government, not want to acknowledge and recognise your veterans who have kept the country safe and secure over all this time?"
Anomalies
Despite support for the idea from the Liberal Democrats ahead of last year's election - as well as from at least 200 MPs from different parties - the MoD's argument has been that awarding a medal simply for serving in the Armed Forces would 'devalue' the system.
Some officials fear the costs could be prohibitive at a time of budget cuts at the MoD.
In a recent Westminster Hall debate, Veterans Minister Andrew Robathan MP said that approximately four million people might be eligible to apply for a National Defence Medal if it were to come into being, and costs could come to £300m - a figure disputed by campaigners.
The minister, a former Army officer, said that "to justify such expense would be hard", particularly when the grounds for doing so "appear to be somewhat thin".
Campaigners say the medal could be brought in for far less, and it could iron out at least some of the anomalies within the current system.
Charles Lovelace, 72, a former national serviceman who also served with the Royal Marines and as a reservist, says: "Once you join the services, you don't know if you will be on the front line, or whether you'll be at the back. You are simply there to do your bit for Queen and country.
"Is the MoD suggesting that there was no risk to those who served on Christmas Island, who were shirtless when an atom bomb went off? Are they suggesting that there was no risk at Porton Down, for people who were told they were testing a flu virus, when in fact it was sarin and nerve gas?
"They should all get recognition for their service," he says.
'Incredibly proud'
The British medals system is a complex one, with most medals awarded for service on operations after a specified period spent in theatre on operations that carry a certain amount of risk.
Other medals include those for long service or good conduct, while gallantry awards are only given for acts of bravery beyond the call of duty.
Service in several past campaigns and circumstances - from the Berlin airlift to veterans who participated in nuclear or chemical testing, as well as those who stood ready to fight during the Cold War - has not always been recognised with a specific medal.
Tony Morland, a retired sergeant who served in the Royal Corps of Signals, became involved with the National Defence Medal campaign after researching whether his father had qualified for a service medal during his long military career, which included service in Tripoli and the wider Middle East just after WWII.
"I discovered that you didn't actually get any recognition for that service. I did eventually find out he was eligible for a medal for his service in the Canal Zone, but we had to fight hard to get it.
"He was incredibly proud of it. Unfortunately he died two weeks later, which got me thinking about all the other people who had never had any recognition at all for their service, and that spurred me on," says Mr Morland, now co-chairman of the National Defence Medal Campaign.
Some of those in favour have already put money into a fund, even though the idea of veterans paying for a medal themselves is something the MoD says Buckingham Palace would not accept.
But not all veterans agree with the idea, with some opponents arguing it could lessen the impact of medals awarded for specific campaigns, and others saying the British medals system is admired for its rigour and the toughness of the criteria for those qualifying.
Military covenant
A review of the medals system conducted by the MoD over the past months is now due to go out to veterans' groups and campaigners for consultation.
Campaigners say they had to put in a Freedom of Information Act request in order to discover that the review had begun, and that Deputy Prime Minister Nick Clegg had to intervene with the MoD to push for the broadest possible consultation.
But an MoD spokesperson said the coalition set out its intention in the Programme for Government, published in May 2010, to review the rules governing the award of medals as a part of its commitment to rebuild the military covenant.
Campaigners think the medal would do much to cement the governing parties' pre-election promises to ensure the nation meets the commitments of the military covenant.
The Armed Forces Bill has been delayed in its passage through Parliament after controversy over what some alleged was the watering down of the prime minister's pledge last year to enshrine it into law. The government insists the delay is so that it can get the bill right.
But campaigners fear time is running out.
"I'm 72, and some of our members are a lot older," says Charles Lovelace.
"The veterans badge is purely a first step and nothing more. But above that, it's not something that people want to wear on parades, it's for everyday wear, and even the MoD acknowledges that."