Maya Evans: peace activist wins legal aid court battle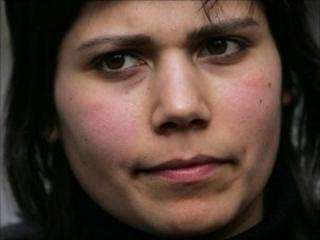 A British human rights and peace activist has won a High Court battle in her bid to block cuts to legal aid for cases brought "in the public interest".
Maya Evans recently fought a legally-aided action on behalf of alleged victims of torture in Afghanistan.
She said the cuts had resulted from a flawed consultation and from "concerns" expressed by the MoD; the judges agreed the process was "legally defective".
Their ruling said that changes made in 2010 on such cases should be reversed.
Amendments made by the previous government meant that judicial review cases brought in the general public interest - rather than by individuals directly affected by a decision - could no longer be eligible for legal aid.
Ms Evans has claimed the MoD triggered the rule changes because they wanted to stop "politically-inconvenient cases" such as hers.
Her lawyers called the win a "significant victory for the rule of law".
The Ministry of Justice - which is responsible for legal aid - said it was "carefully considering" the judgment and deciding whether or not to appeal.
Ms Evans had argued that the legal aid rule changes had partly come about as a result of "concerns" expressed by the MoD, under former Secretary of State for Defence Bob Ainsworth, about whether the rules should be changed to stop such cases getting public funding.
'Inimical to the rule of law'
On Thursday Lord Justice Laws and Mr Justice Stadlen ruled the consultation process was "legally defective" because other consultees - including Ms Evans - were not informed of the MoD's concerns, which had been "part of the mix" in the decision to make the cuts.
They said the government had failed to properly reveal the "true reasons" for the amendments being proposed.
They also criticised Mr Ainsworth for a letter he wrote to the Ministry of Justice in 2008.
The letter said "adverse judgements" in cases brought over [the war in] Iraq could damage UK foreign policy interests, and questioned whether it was time to "look at the rules" of legal aid.
The High Court said denying funding because a ruling "might be unwelcome or apparently damaging would constitute an attempt to influence... judicial decisions in the interests of government. It would therefore be frankly inimical to the rule of law".
But the judgement added that the state was not obliged to fund such legal actions.
Speaking after the ruling Ms Evans said that in her previous case she had been able to "shine a light into the dark recesses of the UK's torture policy in Afghanistan, to the benefit of hundreds of prisoners and, ultimately, the British public".
"I am thrilled that similar opportunities are now preserved for future concerned citizens as a result of this victory."
Taliban suspects
Anti-war activist Ms Evans, 31, from East Sussex, had previously brought a high-profile case challenging an MoD policy of handing over prisoners arrested by British troops in Afghanistan to the Afghan national directorate of security.
Mr Ainsworth had tried, but failed, to block Ms Evans from getting legal aid in that case. In papers disclosed for the latest hearing, he was quoted as saying that he was "concerned" she had applied for legal aid in the Afghan case because she was an "individual who appears to have no standing beyond a general interest in human rights".
She won a partial victory last summer when the High Court ruled UK troops could continue to transfer Taliban suspects to Afghan detention but not to a Kabul site subject to an existing ban.
Ms Evans's lawyers had told the High Court that detainees handed over to the national directorate of security (NDS), a secret service organisation in Afghanistan, had been tortured.
Speaking after Thursday's legal aid ruling, Ms Evans's solicitor Daniel Carey said: "These cuts to legal aid never were about saving money. They were about the government's attempts to avoid accountability by cutting off litigation at its source. The court's outright rejection of this is a significant victory for the rule of law."
In 2005 Ms Evans was found guilty of breaking a new law stopping unauthorised demonstration within half a mile of Parliament.
She had stood by the Cenotaph memorial to Britain's war dead in Whitehall, near Downing Street, and recited the names of 97 Britons killed in the Iraq war.
Ms Evans was convicted of breaching the Serious Organised Crime and Police Act 2005.