Madeleine McCann parents urge PM to launch case review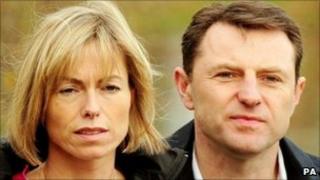 Madeleine McCann's parents have asked David Cameron to launch an independent review of all information relating to the disappearance of their daughter.
Kate and Gerry McCann, of Rothley, Leicestershire, said in an open letter published by the Sun they had "tried in vain" to get a formal inquiry.
The prime minister's spokeswoman said Mr Cameron had "followed their plight very closely" and wanted to help.
Madeleine went missing aged three on holiday in Portugal in May 2007.
'Transparent and comprehensive'
The publication of the letter coincides with Madeleine's eighth birthday and the launch of Mrs McCann's book about her daughter's disappearance.
Proceeds from the book, called Madeleine, are going to the McCanns' official fund to pay for the search for their daughter.
Apart from raising funds, Mrs McCann said she also wrote the book to provide a truthful account of events for their twins, who are now six.
The McCanns said in their letter that "it's not right that a young, vulnerable British citizen has essentially been given up on".
They wrote that "the benefits of pooling together different bits of evidence can be enormous".
"One call might be all that is needed to lead to Madeleine and her abductor," they said.
"To this end we are seeking a joint independent, transparent and comprehensive review of all information held in relation to Madeleine's disappearance.
"Thus far there has been no formal review of the material held by the police authorities."
Private detectives
They added: "It is fundamental for any major incident that a case review is undertaken to identify all the avenues that could be explored that might lead to new information coming into the inquiry."
The official Portuguese inquiry into Madeleine's disappearance ended in July 2008 although private detectives hired by the McCanns have continued the search.
Speaking to BBC's Radio 4's Woman's Hour, Mrs McCann said she believed Madeleine was still alive.
"We know there's no evidence at all that's she's come to harm. There's many cases of missing children who disappear off the radar for really long periods of time and still be found alive.
"I feel that she's still out there. There's nothing telling me to stop or slow down. I truly believe she's out there and if we can get the help we need, we can find her and bring her home."
Mr Cameron's spokeswoman said: "The prime minister met Kate and Gerry McCann while he was leader of the opposition, and he has followed their plight very closely.
"He and the home secretary want to make sure the government does all it can to help them".
Mrs McCann said she and her husband had found the guilt associated with not being able to protect Madeleine "crippling" at times, but "we've addressed that, we can't change it, and what we can do is... everything in our power for find Madeleine."