Queen's ride without hat raises safety issue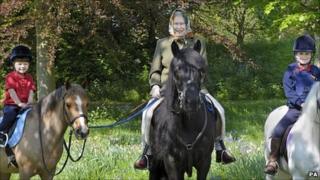 A safety group has said all horse riders should wear hats, after the release of a picture of the Queen riding while wearing only a headscarf.
The monarch, 85, who has long shunned wearing a safety hat, had released an image of her out riding with her two youngest grandchildren.
Rospa said it urged all riders to wear hats "whether or not they are in the public eye", but said it was a choice.
Buckingham Palace declined to comment on the Queen's individual choices.
When contacted by the BBC, Rospa - the Royal Society for the Prevention of Accidents - said the advice on wearing riding helmets applied to adults and children alike.
"Obviously there isn't a law that makes it necessary, but we encourage all riders to do so because it reduces the severity of head injuries if their horse was to have a fall," said a spokesperson.
'Old school'
The Queen was pictured on her black pony alongside three-year-old Viscount Severn and seven-year-old Lady Louise Windsor - the children of the Earl and Countess of Wessex - on their smaller ponies.
The children were wearing riding hats in the picture, released to mark the start of the Royal Windsor Horse Show.
But director of the British Equestrian Health and Safety Association, Jane Butt, said she did not believe the Queen was setting a bad example by refusing to wear a helmet.
"It's a well known fact that the Queen doesn't wear a hat, she's from the old school."
"She is in her 80s and she is still riding so I think she is a good advert for how riding keeps people fit.".
She said her view would differ if the Queen's grandchildren had not been wearing riding hats, adding: "I would have very strong opinions on that."
Likewise, she said if the Queen's daughter Princess Anne or granddaughter Zara Phillips - both successful competitive riders - went without safety helmets it could be viewed negatively.
"That would be bad. They are competitive riders and have very high profiles as riders. The Queen is a very good horsewoman but I don't think the equestrian world would look to her as an example in the same way."
She said she believed the public viewed the Queen as someone who was successful as breeding racehorses and riding for own pleasure, but not as a "representative" of equestrianism.