Supreme Court allows miscarriage of justice appeals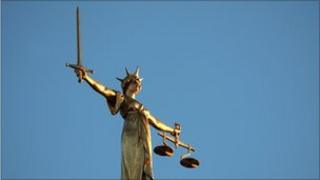 Two men cleared of murder on appeal are to be awarded compensation after a landmark Supreme Court ruling defined a "miscarriage of justice".
However, a similar appeal by a third man was rejected.
The court said a miscarriage of justice was when a new fact showed evidence was "so undermined that no conviction could possibly be based upon it".
The Ministry of Justice said it was likely that "compensation will still only be paid in very few cases".
The ruling could have implications for dozens of former prisoners in England, Wales and Northern Ireland.
Lord Phillips, president of the Supreme Court, said the new test should ensure that innocent defendants are not precluded from obtaining compensation because they cannot "prove their innocence beyond reasonable doubt".
The justices at the court ruled on the question of whether compensation should only be given if someone subsequently showed conclusively that they were innocent of the offence.
With a majority of five to four, they held that a miscarriage of justice had occurred "when a new or newly discovered fact shows conclusively that the evidence against a defendant has been so undermined that no conviction could possibly be based upon it".
To date, people who have been wrongfully convicted have been entitled to compensation only if they can show there has been a "miscarriage of justice".
But the meaning of the phrase had been unclear since a Law Lords ruling in 2004 which came up with different definitions.
The version that was adopted by the government has resulted in compensation being denied to people because they could not prove their innocence beyond reasonable doubt.
The men involved in the Supreme Court case had seen their claims for compensation rejected despite them being cleared by the Court of Appeal.
The two successful appeals are from Northern Ireland.
Compensation rejection
Raymond McCartney was jailed in January 1979 for murdering an RUC officer, Patrick McNulty, and a businessman, Jeffrey Agate.
During his 17 years in jail he became a senior IRA officer and took part in hunger strikes in the Maze prison. His conviction was quashed in 2007 and he is now a Sinn Fein member of the Northern Ireland Assembly.
Speaking after the ruling, Mr McCartney felt "total and absolute vindication", adding that "an impressive legal precedent" had been set.
He said it was a "better definition of a miscarriage of justice" which will help to ensure that due process is followed.
Eamonn MacDermott was also convicted of murdering Det Con McNulty, and of membership of the IRA.
Both men were cleared on appeal in 2007 after judges declared unease about the safety of the guilty verdicts, but two previous bids for compensation have been refused.
The appeal that was rejected by the Supreme Court on Wednesday concerned Andrew Adams, who spent 14 years in jail after being wrongly convicted of murder.
His appeal was unanimously dismissed by the justices because, even if the evidence which led to the quashing of his conviction had been available at his trial, a "reasonable jury might or might not have convicted the defendant".
Fresh consideration
Mr Adams, from Newcastle, was found guilty in 1993 of shooting retired science teacher Jack Royal, but was released in 2007 by the Court of Appeal.
The High Court rejected his compensation bid, and Mr Adams took his case to the Court of Appeal.
Barry George, cleared of killing Jill Dando, is not one of the men but his lawyers also took part in the hearing.
His solicitor, Nicholas Baird, said he was encouraged by the Supreme Court ruling.
Mr Baird said he will now be asking Justice Secretary Ken Clarke to "consider afresh" his claim for compensation applying the new test set out by the Court.
Mr George spent eight years in jail before being acquitted at a retrial in August 2008 of the BBC presenter's murder.
The High Court later ruled he was entitled to a judicial review hearing over the government decision to refuse him compensation.
It is not yet clear what the implications will be for some former prisoners in England, Wales and Northern Ireland, although it is unlikely to affect Scotland where there are fewer restrictions on eligibility for compensation.
A Ministry of Justice spokesman said: "We welcome the decision of Supreme Court to dismiss the appeal of Andrew Adams and confirm that our decision not to pay compensation was correct.
"This is a long and complex judgment which will take time to consider in full. However, while the court has set a new test for "miscarriage of justice", we expect that compensation will still only be paid in very few cases."