Food bank 'demand grows by 50%'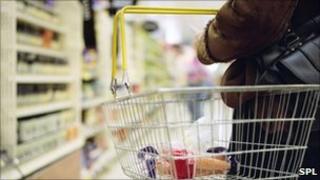 Demand for food banks grew 50% last year compared with the previous 12 months, a charity says.
The Trussell Trust, which helps run 100 food banks throughout the UK, said it had fed 41,000 people in 2009-10, and almost 61,500 last year.
Executive chairman Chris Mould said a recession followed by high unemployment and rising food and fuel prices had had "a huge impact" on struggling families.
He predicted demand could grow to 500,000 by 2015.
The trust said it fed 26,000 people nationwide in 2008-09.
"Food bank clients are faced with impossible choices between paying the rent and buying food. Parents skip meals or consider crime to feed their children. The shocking truth is that thousands are going hungry in their own homes in 21st century Britain," Mr Mould said.
One of the most recently opened food banks - in Coventry - said it was struggling with demand.
Project Manager Gavin Kibble says: "We hugely underestimated the number of people in need of emergency food and have been shocked at the demand since opening. In the last week alone we have fed over 150 people."
Food bank clients are referred by care professionals, such as a doctor or social worker. They can receive a maximum of three food bank vouchers in a row and each voucher can be redeemed for at least three days food.