Protect public access to forests, campaign tells panel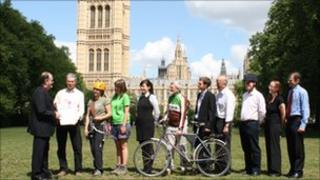 A panel examining the future of forests in England must protect and increase access to woodland, campaigners say.
Ministers set up the independent inquiry after abandoning plans to sell off 258,000 hectares of state-owned land following a public outcry.
The Forest Access User Group is made up of nine organisations including the British Horse Society, Ramblers, the Kennel Club and cycling service CTC.
Its representatives have met the panel's chairman in London.
Following discussions at the Department for Environment, Food and Rural Affairs in Westminster, the group handed a statement handed to panel chairman, the Right Rev James Jones, Bishop of Liverpool.
The group says it believes that "protecting and enhancing public access to our woodland and forests must be at the heart of the panel's work".
Its statement added: "We believe that the panel now has the opportunity fully to realise the multi-purpose function of our woodland and forest estates...
"This cherished national asset therefore needs to be protected for public access in all forms, be it on foot, bike, horseback, horse-drawn carriage or with a dog, helping to strengthen the public's understanding of the natural environment."
500,000 signature petition
The other organisations which make up the Forest Access Users Group are the Mountaineering Council, the Open Spaces Society, the Sport and Recreation Alliance, the International Mountain Biking Association and British Orienteering.
The group says the Forestry Commission land makes up 18% of England's woodland and forests but accounts for 44% of accessible sites and attracts more than 40 million visits each year.
Government proposals to sell off the land were abandoned in February, a few weeks into a consultation.
The plans included the sale of leaseholds on large commercial forests to private companies, while allowing community groups to buy or lease forests and encouraging charities to own or manage "heritage" forests.
But a YouGov poll suggested that 84% of people were opposed and some 500,000 were said to have signed a petition against the proposals.
Environment Secretary Caroline Spelman has said the panel will hold meetings in different parts of England and "engage all those in receipt of information, views and evidence, so everyone feels involved".