Longer prison sentences cut reoffending, study suggests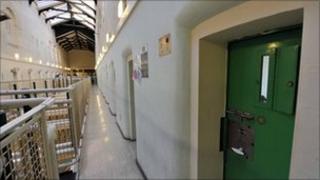 The longer the prison sentence the less likely an offender is to commit a further crime, according to research.
The Ministry of Justice report found that 37.5% of those imprisoned for two to four years reoffended in a year, compared with 42.9% of those jailed for one to two years.
Justice Secretary Kenneth Clarke said it was a "national scandal" that nearly half of all prisoners go back to crime.
The findings raise questions about his plans to cut the prison population.
Other figures showed that 40% of offenders sentenced to between one and two years in jail went on to reoffend within a year, compared with 44.5% of those jailed for less than 12 months.
'National scandal'
Authorities were unable to say whether it was due to the increased time spent in prison, the increased time spent on licence after their release, or the use of offender management programmes that made the difference.
Mr Clarke said that the reoffending rates were "unacceptably high".
"Sentences must properly punish offenders as well as address the causes of their offending so that they are made ready to go straight once their punishment has ended," he added.
The research also showed that community orders and suspended sentences had lower reoffending rates than those sentenced to less than one year in jail.
Of those criminals given suspended sentences, 38.6% reoffended compared to 47.4% of those imprisoned for under a year for similar crimes.
And for other like-for-like criminals, 51.1% of those given community orders reoffended in contrast with 59.4% who were jailed for less than 12 months.
Roma Hooper, of campaign group Make Justice Work, said the figures showed that shorter prison sentences were "totally ineffective at cutting low-level crime."
"Sending petty criminals to years behind bars is unrealistic and unaffordable," she said.