Privacy law situation is crazy, says culture secretary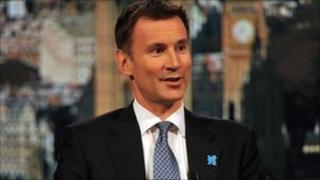 Culture Secretary Jeremy Hunt has said Parliament, not judges, should make decisions about privacy issues.
He said it was a "crazy situation" that super-injunctions were banning newspapers from publishing stories which were freely available online.
Mr Hunt said he would hold discussions with Justice Secretary Ken Clarke to "see what could be done".
Former Lord chancellor Lord Falconer earlier said Twitter had rendered super-injunctions "pointless".
Their comments came after a user of the micro-blogging website tried to unmask some celebrities who obtained super-injunctions to prevent details of their private lives being published.
However, the tweets to "out" some UK public figures appeared to contain errors.
Speaking to journalists at a Westminster lunch, Mr Hunt said: "We are in this crazy situation where information is available freely online which you are not able to print in newspapers.
"Technology, and Twitter in particular, is making a mockery of the privacy laws that we have and we do need to think about the regulatory environment that we have.
"Whatever the law tries to do on privacy, the internet is a very powerful force that you can't buck so we do need to look at it."
Mr Hunt said his discussions with the justice secretary would cover super-injunctions and the wider issue of privacy.
But he added that passing a new privacy law would be a massive parliamentary undertaking, and it was important to examine the alternatives.
Mr Hunt said: "We need to get into a situation where regulation and legislation is up to speed with changes in technology and that we get the balance right between the rights of an individual and the rights we all cherish for freedom of expression."
Report awaited
Super-injunctions have been issued by the courts to protect people from what they see as their right to privacy from the press.
Even the fact that an injunction has been granted, or the name of the person applying for it, must be kept secret.
Last month, Prime Minister David Cameron said the increasing use of such orders made him feel uneasy.
A report by a committee set up by Master of the Rolls Lord Neuberger - the most senior civil law judge at the Court of Appeal - will report on their use later this month.
Meanwhile, senior Conservative MP David Davis, is due to ask the Backbench Business Committee to grant a debate on the issue of privacy.
Sadiq Khan, the shadow justice secretary, said it was important to get "the balance right between freedom of speech and an individual's right to privacy".
He added: "Lord Neuberger's report on super-injunctions may provide some solutions to their growing use, but the government needs to show some leadership on this issue... There is therefore no excuse for inaction or delay on their part."
Lord Falconer told the Daily Mail: "If a point is reached as a matter of evidence when everyone knows who the injunctions are about then they become pretty pointless.
"It sounds like it's very difficult to make sure that injunctions like this are complied with."