Tomlinson case prompts police watchdog IPCC 'concern'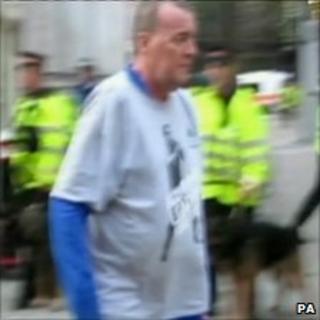 The police watchdog has said it is concerned that only one officer who saw Ian Tomlinson pushed over at the G20 protests wrote it up in a log.
A report by the IPCC also said it was "reckless" that an officer incorrectly told a pathologist the newspaper seller fell in front of a police van.
But it found no evidence of any attempt to cover up Mr Tomlinson's death at the protests in London on 1 April 2009.
The Metropolitan Police welcomed the findings.
Last week an inquest jury returned a verdict of unlawful killing of the newspaper seller, 47, by Met Police officer Simon Harwood.
Mr Tomlinson collapsed and died after he was hit by a baton and pushed to the ground.
The IPCC (Independent Police Complaints Commission) has now published three separate reports - one into Mr Tomlinson's death, one on whether a Met officer misled pathologists, and one into claims that the media was misled.
It said: "It is a matter of concern that only one officer who did see the push expressed concern and made a written record of what she had seen.
"However it is not surprising, in the context of a major policing operation in which thousands of officers were deployed and many were using force, that Pc Harwood's push, no matter how forceful, was not the subject of reporting."
'Complicated and confusing'
The IPCC also upheld a complaint by Mr Tomlinson's family that police misinformed pathologists who carried out the third and fourth post-mortem examination on him.
IPCC commissioner Deborah Glass said: "Although there was no evidence that the officer intended to mislead the pathologist, we found that this officer was reckless in his briefing."
However, it said this had not affected the pathologists's findings.
But it found no evidence to support complaints that officers had failed to protect Mr Tomlinson from assault.
It also concluded that:
There was no evidence of any misconduct on the part of officers who came into contact with Mr Tomlinson on at least three occasions as he sought to pass through police cordons
The police plan to disperse crowds from the Royal Exchange Buildings was "proportionate and necessary"
There was no evidence of misconduct in relation to police dog handlers
There was no evidence that any officers involved in liaising with the media set out to deliberately mislead
The watchdog also said the entire process by which police officers were held to account for their actions was "complicated and confusing".
The Director of Public Prosecutions, Keir Starmer QC, is to examine whether Pc Harwood should now be charged with manslaughter over Mr Tomlinson's death.
The IPCC also urged the Metropolitan Police to hold a misconduct hearing in public as soon as possible, to help "shed some light on the system within which we work."
And it also noted the "crucial role" played by the media in obtaining vital evidence surrounding the circumstances leading up to Mr Tomlinson's death.
The Metropolitan Police said in a statement: "The Met welcomes the IPCC findings which include that there was no evidence concerning complaints that officers failed to protect Mr Tomlinson from assault, and subsequently no case to answer in relation to misconduct.
"In addition, complaints about the conduct of MPS officers around Royal Exchange Buildings and alleged failures in first aid were not upheld and the report rightly acknowledges that broader lessons following G20 have been addressed by the MPS."
It also said the IPCC had found no evidence any police or press officer attempted to mislead, and no evidence that the service had previously denied any prior "contact" with Mr Tomlinson.
City of London complaint
Meanwhile, the IPCC has also said it will investigate claims that the City of London force failed to pass on key evidence to the family, coroner or IPCC in the days after Mr Tomlinson's death.
Within 48 hours of the death, three Met officers allegedly told their bosses they saw an officer push him to the ground.
The Met Police said it took "prompt and proper" action to inform the City of London police - which patrols the Square Mile and was initially responsible for the investigation - of potential witness evidence.
City of London Police said it would co-operate with any new investigation.
Jules Carey, of Tuckers Solicitors, which represents Mr Tomlinson's family, said: "In cases where the state is investigating whether its officers may have killed a person, the police are required to carry out a thorough, prompt and impartial investigation to high standards.
"Today's IPCC report suggests that the detective inspector from the MPS fell short of the required standard.
"Mr Tomlinson's family has now asked the IPCC to investigate if the same is true of the lead investigators from City of London Police."