British Gas owner Centrica warns of higher prices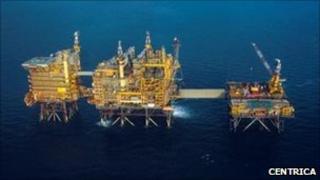 The owner of British Gas, Centrica, has warned that customers may face higher energy bills.
Centrica said "end-user prices" did not reflect the price it was paying for gas on the wholesale market.
The company also said that it was likely to cut investment in the UK after the Government raised taxes on North Sea oil and gas production.
Centrica said the tax hike would erode profit growth in 2011, sending the company's shares down 3.8%.
The company's statement said that the worldwide energy market had been thrown into turmoil following the natural disaster in Japan and unrest in Africa and the Middle East.
"In the UK, the forward wholesale prices of gas and power for delivery in winter 2011/12 are currently around 25% higher than prices last winter, with end-user prices yet to reflect this higher wholesale market price environment," the statement said.
The company said average residential gas consumption in the first four months of the year was 19% lower, while electricity consumption was down 4%.
Centrica also warned of the impact of a rise in energy taxes. Last month, the government unexpectedly raised a supplementary tax charge on North Sea oil and gas producers from 20% to 32%.
"We continue to expect growth in our 2011 group earnings but at a more modest rate than anticipated at the time of our last results announcement as upstream profits have become more highly taxed," the company said.
"We no longer expect to maintain the previously projected high levels of investment in the UK," it said.
Centrica said last week that it may shut one of its gas fields in Morecambe Bay as the tax rise made it unprofitable to run.
It followed a decision by Norway's Statoil in March to put some developments on hold as a result of the tax rise.