Suspects to be charged by post in police reform plans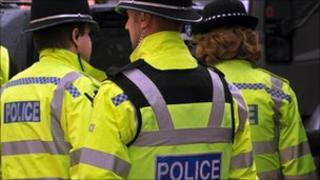 Tens of thousands of suspects are to be charged by post under government plans to cut what Home Secretary Theresa May called "grinding" police bureaucracy.
She said it was wrong that dealing with an incident such as a burglary should generate up to 70 separate forms.
She said the move was part of plans for England and Wales which could save up to 2.5 million police hours each year.
The Police Federation said "tinkering around the edges with bureaucracy" would not reduce the impact of cuts.
Cuts to police budgets over the next four years are due to start with 8% reductions in 2012-13, 6% the year after and 4% in each of the following two years.
The police should be "chasing criminals not chasing targets," said Mrs May.
'Different approach'
The home secretary said the reforms would "send a clear signal that the professional judgment of individual officers is valued and it is expected".
"We've stopped the weary cycle of over-reaction, inquiries, blame, legislation, codes and guidance and blanket remedial training for all," she said.
"We will take a different approach - we will trust the police."
The move to charge thousands of people by a letter would see bailed suspects sent formal charges through the post, instead of being asked to attend police stations.
It is hoped this approach alone could save up to 40,000 police hours annually.
However, the home secretary said targets and guidance which are scrapped nationally should not be replaced by local versions in each of the 43 forces.
"It will be key for the reforms I have outlined to be carried through by individual forces and individual officers at the local level.
"The potential rewards for the police are enormous, but they must make them happen," Mrs May said.
Budget cuts impact
During her speech, the home secretary also restated plans to introduce elected police commissioners.
The first of these commissioners are expected to be in place by May 2012, with the power to hire and fire chief constables.
Responding to claims that the proposals could save up to 2.5 million hours a year, Paul McKeever, who chairs the Police Federation of England and Wales, said the impact of these changes would be "a mere drop in the ocean" compared to the effect of savings that need to be made in policing if government cuts are to be met.
He said police budget cuts will have "real unintended consequences and no matter of tinkering around the edges with bureaucracy and management process is going to alter the fact that the communities we serve out there are going to suffer a detriment".