New police powers could harm children, charity warns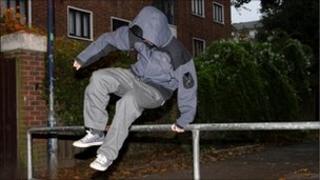 Government plans to curb anti-social behaviour in England and Wales could put vulnerable children at greater risk, the charity Barnardo's has said.
It said giving police powers to force unaccompanied children under 16 to return home could push them into potentially harmful situations.
The new powers are part of a range of measures that will replace Asbos.
The Home Office said the proposals are open to public consultation and it welcomed a discussion with Barnardo's.
Under the proposals in the anti-social behaviour consultation, a "direction power" would enable a police officer or police community support officer "to require a person aged 10 or over to leave a specific area, and not return for up to 48 hours".
"The power could also include the ability to return home unaccompanied young people under the age of 16, subject to appropriate safeguards," the consultation document said.
Anne Carrie, Barnardo's chief executive, said if the government really wants effective responses to anti-social behaviour by children, it needs to know why the problems are happening in the first place.
"We need to treat the causes of crime, rather than put sticking plasters on the symptoms.
"There needs to be much better communication between police and welfare services to ensure we are not putting children at risk and ultimately perpetuating the cycle of offending," she said.
The charity added that social needs should be mapped to help local authorities and communities challenge the causes of anti-social behaviour as well as the offences committed.
A Home Office spokesman said the proposed reforms would "empower the public and give the authorities the flexibility and powers they need to tackle this serious problem".
"The concerns raised by Barnardo's relate as much to the existing regime as our proposals, and we are looking forward to discussing them with Barnardo's soon," he said.