Rail passengers make 5% more journeys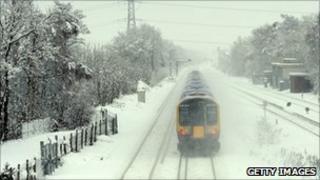 Rail passengers made almost 5% more journeys in the first three months of 2011 than in the same period last year.
There were 316 million journeys in January-March 2011, up on the snow-hit winter of 2010, the Association of Train Operation Companies said.
In the year to March 2011, 1.34 billion rail journeys were taken, a 6.6% rise on the previous 12-month period.
Atoc chief executive Michael Roberts said the price of petrol had encouraged people to move from car to train.
The figures for the beginning of 2010 were affected by the bad weather of the January of that year.
A survey by Ipsos MORI for Atoc suggested a sixth of rail users have switched from car to train for at least one journey during February and March this year.
About half blamed the price of petrol.
Mr Roberts said: "It's been a strong quarter on the railways, with more and more people choosing to travel by train, despite tough economic times and tight family budgets for many.
"At a time when high petrol prices are a concern to many households, the fact that more people are choosing to travel by train underlines the vital role that rail has to play in the economy's continued recovery."