Sir Paul McCartney to marry for third time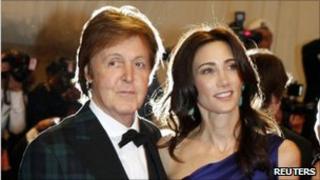 Sir Paul McCartney is to marry his girlfriend of four years.
The former Beatle, who is 68, has become engaged to 51-year-old New York businesswoman Nancy Shevell, who will become his third wife.
Sir Paul's publicist Stuart Bell did not give any further details but said: "We're all thrilled for him." The date of the wedding is not yet known.
Sir Paul's first wife, Linda, died of cancer in 1998. He married Heather Mills in 2002 and divorced in 2008.
Ms Shevell was married for more than 20 years to American lawyer and political candidate Bruce Blakeman.
She is a board member of New York's transportation authority and a vice-president of her family business.
A spokeswoman for Beatles drummer Ringo Starr said: "Ringo congratulates Paul and Nancy and wishes them every happiness."