Colonial secret papers to be made public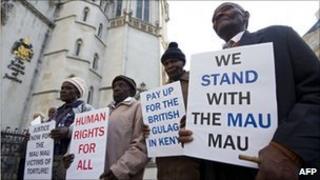 A collection of sensitive documents from Britain's colonial past are to be made public through the National Archives for the first time.
The files were sent to the UK from various former territories, mostly at the time they achieved independence.
The documents emerged when four Mau Mau veterans sued the UK, saying they were tortured by Kenyan colonial government in the 1950s.
The British government says it cannot be held responsible.
It wants the claim thrown out by the High Court.
Foreign Secretary William Hague said the Foreign Office only became aware of the significance of the files in January because of research linked to the court case.
'Enormous significance'
He said: "I believe that it is the right thing to do for the information in these files now to be properly examined and recorded and made available to the public.
"It is my intention to release every part of every paper of interest, subject only to legal exemptions."
Mr Hague said the job of making the papers public would be done "rapidly", but that it might take some time to complete because of the size of the archive.
David Anderson, professor of African politics at Oxford University, told the BBC the files were of "enormous significance".
He said: "These are a set of selected documents withheld for their sensitivity. We will learn things the British government of the time didn't want us to know."
"They are likely to change our view of some key places", he said. "It will clarify the last days of Empire in ways that will be shocking for some people in Britain."
Rebellion
The Foreign Office says officials have briefed the governments of those former British territories which might be affected.
The four Kenyans suing the UK say they were assaulted between 1952 and 1961 by British colonial officers in detention camps during the Mau Mau rebellion.
Thousands of people involved in the rebellion, or suspected of supporting it, were sent to the camps for "screening", or interrogation.
Britain says it cannot be held responsible for the actions of a colonial government.
The Kenya Human Rights Commission has said 90,000 Kenyans were executed, tortured or maimed during the crackdown, and 160,000 were detained in appalling conditions.