Sellafield nuclear site terror suspects released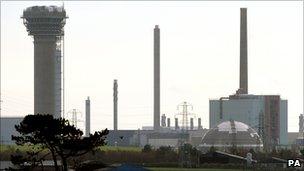 Five men arrested close to the Sellafield nuclear site under the Terrorism Act have been released without charge.
The men, all from London and in their 20s, were arrested on Monday afternoon after a stop check on a vehicle close to the Sellafield site, in Cumbria.
The BBC understands the men had been taking photographs.
The North West Counter Terrorism Unit led the investigation. It was supported by Cumbria Constabulary.
The men, all thought to be of Bangladeshi origin, were held in Carlisle overnight on Monday and then moved to Manchester the following day.
Under Section 41 of the Terrorism Act 2000, a police officer can arrest anyone they "reasonably suspect" of being a terrorist.
The arrests were made within hours of the news breaking that Osama Bin Laden had been killed in Pakistan, and members of the public being warned to remain vigilant over fears of reprisals from groups sympathetic to al-Qaeda.
The Sellafield site is responsible for decommissioning and reprocessing nuclear waste and fuel manufacturing on behalf of the Nuclear Decommissioning Authority.
The site, which has operated since the 1940s, is heavily protected by both officers from the Civil Nuclear Constabulary, who carried out the arrests, and private security.
Related Internet Links
The BBC is not responsible for the content of external sites.