Heatwave sees warmest UK April for more than 100 years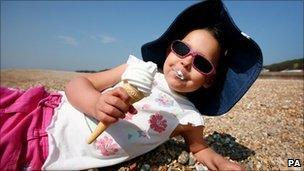 Last month was the UK's warmest April on record, the Met Office has said.
The records, which go back more than 100 years, show much of the UK experienced temperatures 3 to 5C warmer than is normal for April.
It was also the 11th driest month, with on average half the usual rainfall.
But there was also great variation in the amount of rain. Parts of north-west Scotland saw about 110% of normal April rainfall, while parts of south-east England saw less than 10% of normal.
The UK average temperature was 10.7C, exceeding the previous warmest April on record of 10.2C in 2007.
Following a drier-than-average winter, the dry April followed a dry March which saw less than half of the normal rainfall falling across the UK.
The BBC's rural affairs correspondent Jeremy Cooke said the lower-than-average rainfall had prompted some farmers to warn that food prices could rise in future.
The dry conditions are already presenting challenges for those growing essential crops like wheat and means there is less grass for livestock, our correspondent added.
A BBC Weather Centre spokesman said: "The UK-wide records began in 1910, but the central England temperature series goes back to 1659, making it the warmest April here for over 350 years."
He added: "The reason for the warm spring sunshine has been the persistence of high pressure systems dominating the weather pattern.
"These highs have been anchored across, or just to the east, of the UK. As a result, southeasterly winds have brought the warm air up from the near continent and at times from as far away as the Sahara.
"High pressure acts like a block to the weather pattern. It prevents the more typical westerly winds coming in from the Atlantic Ocean and the associated rain bearing weather fronts."
Related Internet Links
The BBC is not responsible for the content of external sites.