Forest fires: Wind and sun causing havoc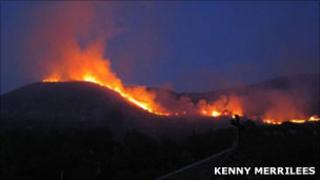 Fires are still burning around the UK as high winds and dry conditions frustrate emergency services.
Firefighters are dealing with various blazes across large parts of the Scottish Highlands.
Two boys, aged 10 and 15, have been questioned about a gorse fire in County Tyrone.
Meanwhile 150 firefighters were called to deal with a number of incidents at Swinley Forest, Berkshire.
Elsewhere 70 firefighters in Lancashire have been using beaters and spraying water on flames and smouldering moorland at Belmont, Bacup and Ormskirk.
Crews from Merseyside, Greater Manchester and West Yorkshire are involved in tackling the fires, which were fanned by winds of up to 45 mph.
'Little chance of rain'
Paul Richardson, from Lancashire Fire and Rescue Service, says the high winds and very dry conditions make it risky for walkers and emergency crews.
Weather forecasters have said there is very little chance of rain in the next 24 hours.
In the Highlands several homes at Inverkirkaig in Assynt and Shiel Bridge in Kintail have been evacuated because of advancing flames.
Crews have been working on steep rugged terrain and helicopters have been brought in to reach inaccessible areas.
A boat has also been used to get firefighters to a remote location, Lochailort in the west Highlands, where a property is potentially at risk.
Hundreds of firefighters have been involved - many of them part-time.
In Aberdeenshire, crews were tackling a blaze on the Balmoral estate north of Glen Muick, helped by a helicopter.
Central Scotland Fire and Rescue Service had also been dealing with a large area of scrub and gorse on fire at Glengyle, at the northern end of Loch Katrine.
In Northern Ireland, Glenshesk in Ballycastle has been the worst affected, with fires elsewhere in the Mourne Mountains in County Down, Gortin and Rostrevor.
Sunday was the busiest day on record for the Northern Ireland fire and rescue service.
Chief Fire Officer Peter Craig said: "What we are highly concerned with is protecting life, property and infrastructure.
"In Rostrevor, I saw a ball of flames rolling towards a property. Firefighters, the local community and property owners themselves worked extremely hard to make sure that that person's home did not go up in flames."
The National Trust has warned the fires will cause "immense damage" to the Mournes.
In Berkshire 150 firefighters from four different counties have been dealing with four serious blazes at Swinley Forest.
A large area of Bracknell and Crowthorne remains closed off.
Three schools in the area have been closed as the fires have continued to cause problems.
Earlier, in south Wales, crews attended a mountainside fire near Treherbert which South Wales Fire and Rescue Service said affected 500 hectares of land.
Elsewhere in Europe the dry weather has led to fires in parts of Switzerland, Russia and the Netherlands.