British Helmand soldiers 'should get battle honours'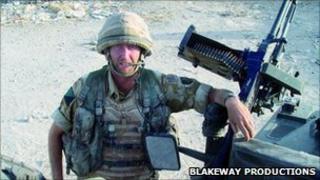 British soldiers who have fought in Afghanistan's Helmand province should be awarded battle honours, a decorated veteran has said.
Speaking five years after the UK formally took control there, Captain Doug Beattie said the fighting in Afghanistan had, at its worst, been fiercer than anything seen in Iraq.
"It was a... stand-up fight," he said.
Battle honours - separate from individual medals - recognise the part played by ships, units and squadrons.
New Army policy states that decisions on battle honours should be made after a campaign is over.
Since military operations began in Afghanistan, in 2001, 364 British military personnel have been killed.
Capt Beattie, 45, has served three tours in the Afghan province with 1st Battalion the Royal Irish Regiment, as well as taking part in the 2003 Iraq invasion, for which his regiment received battle honours.
Originally from Portadown in Northern Ireland, he became a soldier in 1982 and is now in the Territorial Army.
More than 50 Royal Navy ships, Army regiments and RAF squadrons received honours approved by the Queen for their involvement in the 2003 invasion of Iraq.
But Capt Beattie said the fighting in Helmand, in southern Afghanistan, was more worthy of official recognition.
UK commanders formally took control of the province from the US on 1 May 2006, although British engineers and special forces had been on the ground for some time before that.
Troops on the frontline in Helmand, a Taliban and drugs-baron stronghold, quickly became engaged in some of the most ferocious fighting UK forces had experienced since WWII.
Capt Beattie said it was "quite strange" that battle honours were not being given out for military activities in the area.
"Should they give out Helmand as a battle honour, particularly for those who served there in 2006? Yes, because it's clearly the hardest fight we've had for the past 30 or 40 years.
"The Royal Irish Regiment have just finished their third tour in Helmand and been notified that they will be doing a fourth.
"They have not received a battle honour for Helmand. Yet they received a battle honour for the three months they did in Iraq in 2003. It's a shame because whether people call it war or whether they call it counter-insurgency, it doesn't matter.
"In 2006 young men - and old men like me - were having to use bayonets on the enemy."
'Dogged infantryman'
He said that in Iraq there was less of a sense of "fighting a war," adding: "We felt we were pushing forward to occupy a country."
"In Helmand in 2006 there were people holed up in compounds and the enemy were assaulting them in an attempt to over-run their positions. It was a real battle, hand-to-hand stuff."
The 2010 Battle Honours Review stated: "Any assessment of actions in Afghanistan since 2001 should not be made until operations in that theatre have ceased."
Capt Beattie, who was awarded the Military Cross for his bravery serving with the Royal Irish Regiment in Afghanistan in 2006-07, said Helmand was now "in the absolute psyche of the British soldier".
He said British forces did not fully appreciate the complicated tribal loyalties in Helmand when they first deployed there in 2006, and militarily were "not really ready for the fight we got".
"Even when the battle started to pick up, people thought it was a flash in the pan. It was a straight stand-up fight. But because it was a straight stand-up fight, the dogged British infantryman was in his element."
He said the situation had changed significantly by the time he completed his third tour in Afghanistan last month.
He said British forces were succeeding in Afghanistan but cautioned that the country was likely to tip back into instability after Nato troops leave in 2014 or 2015.