Royal wedding: What are they saying about the dress?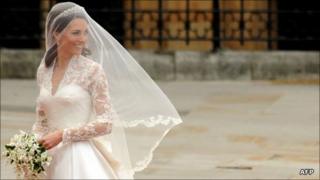 Crowds outside Westminster Abbey were stunned by the dress chosen by the Duchess of Cambridge as she stepped out of the wedding car.
After months of speculation, the closely guarded secret of who would be designing the royal wedding dress and what it would look like was revealed.
Sarah Burton, who was first rumoured to have been given the high-profile job in March, is the lead designer at Alexander McQueen.
Having been the protegee of Alexander McQueen himself, she took over as creative director of the fashion house following his death in 2010.
Reaction from the fashion world and the general public to the long-sleeved, V-necked lace dress has been overwhelmingly positive.
The Telegraph's fashion director Hilary Alexander hailed Mrs Burton's design "the Wedding Dress of the Century."
Wedding dress designer Phillipa Lepley, who had been touted as a potential candidate herself, gave BBC News her initial reaction: "It's very understated, quite classic and timeless. It's almost Grace Kelly-esque."
As the bride walked down the aisle, fashion magazine Grazia drew similar comparisons with the late Princess Grace of Monaco: "Kate Middleton is the perfect Grace Kelly Princess bride! Everyone in the office crying about Sarah Burton (yesss!) designing the royal wedding dress. Anyone else feel like they've died and gone to fashion heaven...?"
Karl Lagerfeld recognised elements of another famous wedding dress, one that is even closer to home - that of the groom's grandmother, the Queen.
As the Chanel designer told France 2 Television, "The dress is classic and goes very well in the Westminster decor. "It almost reminds me of (Queen) Elizabeth's wedding, the royal weddings in the (19)50s. The proportion of the train is good. The lace is very pretty. I like the veil a lot."
Despite the McQueen label being known for some fairly risque creations in the past, it was clear on this occasion that would not be the case.
Harriet Quick, fashion features editor at Vogue admired the newly anointed duchess's decision not to go with too modern a style: "It has a retro feel to it which nods to a lot of nostalgia and history but at the same time she looks very easy in it. It's incredibly grown-up, it's timeless, so I think it shows a very smart choice, one which suits her but it's incredibly respectful for her as the commoner joining the Royal Family."
Hubert de Givenchy who founded the House of Givenchy fashion label approved of the decision to go with the British Alexander McQueen: "It's a lovely thought, a nice tribute."
With an estimated global audience of over two billion, it was going to be an enormous publicity coup for whichever designer was chosen by the duchess. Harold Tillman, chairman of the British Fashion Council, called the wedding a victory for British fashion.
"She is so stunningly beautiful, it's so regal, it's such understatement that I think it's just perfection.
"It's the most beautiful dress, the train was not too long, and she's got the height that carries it off."
Although not quite the eight-metre train that Princess Diana led down the aisle at St Pauls, the decision to have one has been applauded by fashion commentators. Bryony Toogood, fashion director of Brides magazine, said, "Wow! A dress by Sarah Burton for McQueen completely befitting of a princess - and thank goodness a train!"
Several commentators noted that the dress was in keeping with the former St Andrews student's personal style.
Designer Caroline Castigliano, who described the bride's appearance as "absolutely fabulous", thought that this was very much her own look.
"She showed her personality through her style," she said. "She has showed us her style over the last nine years and today that shone through.
"It was perfect for the day and perfect for Britain and for her personality."
What are they saying about the dress?
British bridal designer Suzanne Neville also suggests that the dress was "quite predictable".
"I thought it was exactly what most people thought she was going to wear, but it was beautiful, absolutely stunning," she said.
Ms Neville agreed that Prince William's new wife made exactly the right choice.
"The technical side of it is breathtaking. I think the workmanship definitely shines through and I'm glad she chose such a top couturier, someone who knows the right skills. She chose an absolute professional," she said.
Jenny Swire, fashion director of Wedding magazine, wonders whether the duchess's decison to go for a more traditional dress have been heavily influenced by the grand scale of the occasion.
"I thought she might have been a bit more chic but I saw that in what [her sister] Pippa was wearing. I think she (Kate) may have wanted to wear something a bit more like what Pippa was wearing but if she had not been marrying a prince maybe she could have done."
Online, it has been difficult to find anyone with anything but praise for the dress.
On Twitter, commentators like what they see. Anna Stanley, tweeting as StanandDeliver says "kate middleton, Grace Kelly style......beautiful"
Amanda Burcul is similarly complimentary: "This is just so exciting!!! Kate is stunning. Just a pure classic beauty, so natural. Love it!"
Poppy Ntshongwana tweeting as PoppyIsMyName, says "Kate at Westminister Abbey! GORGEOUS !!"
Diane Morris, tweeting as BridesButler, says on how well the dress has been tailored for the duchess: "The bodice fits her like a glove! Beautiful fit!"
ShanDN sums up her view of the dress simply: "Now that's a PRINCESS!"
Those who had travelled from far and wide to watch the spectacle were not disappointed by what they saw.
Marybeth Anderson who had flown in from Washington DC, was outside the abbey when the bride arrived. She said: "It's a beautiful dress. The V-neck is pretty and also the long sleeves but she was always going to look beautiful. It's very classical, very traditional with her veil and hair down."
Sue Clavans from Leeds, who had camped out overnight, agreed: "It's a gorgeous dress, stunning and so elegant. "She looks like a proper princess."