Met Police officer unlawfully subletting council flat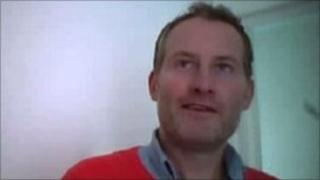 A serving Metropolitan Police officer has been unlawfully subletting his council flat, according to a BBC Panorama investigation.
Pc Stephen Holt offered to rent his council property to an undercover reporter at £359 more than he pays Southwark Council in weekly rent.
The government has labelled unlawful subletting "housing fraud", which costs the taxpayer at least £1bn a year.
Pc Holt did not respond to Panorama's queries about the council flat rental.
As part of its investigation into social housing, Panorama replied to an advert Pc Holt placed on a website and an undercover reporter went to view the flat.
Pc Holt, a part-time crime prevention officer and a part-time property developer who has appeared on daytime TV property programmes, showed the reporter around the flat near Butler's Wharf, close to Tower Bridge in London.
Cash deposit
He offered the flat to the reporter at £450 for the week. Rent on the Southwark council flat is £91 a week.
Panorama paid the rental fee in cash, along with a £200 cash deposit.
Under the terms of his tenancy, Pc Holt should be living in the property and should not be renting it out.
Pc Holt told Panorama's undercover reporter that any post that arrived in his name could be directed to the flat opposite, which Pc Holt owns.
The Audit Commission believes that unlawful subletting of properties is currently removing at least 50,000 council homes from the system in England, adding to the wider shortage at a time when almost five million people in the country are on waiting lists for social housing.
While showing the reporter around property, Pc Holt also said that he owned a chateau in Bordeaux in the south of France. Pc Holt also owns a property in rural Kent.
The tenant of a council property is not prohibited from owning other properties.
'We can't help you'
With subletting adding to a growing social housing problem and demand outstripping supply, Portsmouth Council is informing new inquirers and many on its waiting list they are unlikely to be offered council accommodation.
"Most people on a council waiting list are never, ever going to get offers of council accommodation," said Pete Diamond, a housing officer with Portsmouth Council.
"I just think the fairest way of doing it is just to be honest and just say to people, 'look, you may have a housing need, you may have all this situation going on but we still can't help you'," Mr Diamond continued.
Panorama wrote to Pc Holt, asking him to respond to the allegations but did not receive a reply. Other attempts to contact him failed.
Panorama contacted Southwark Council about Pc Holt.
Following council investigations, Pc Holt has been issued with a notice to quit the property.
Panorama's Council Houses: Cheats and Victims, BBC One, Wednesday, 4 May at 2100 BST and then available in the UK on the BBC iPlayer.