Wayne Rooney 'contacted by phone-hacking police'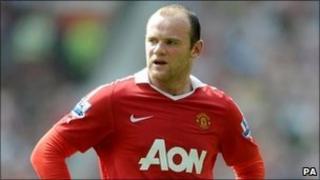 England footballer Wayne Rooney has been contacted by Scotland Yard detectives probing phone hacking in the wake of the News of the World scandal.
Rooney wrote on Twitter: "Scotland Yard detectives came to see me earlier and showed me some documents. Looks like a newspaper have hacked into my phone."
Scotland Yard said it was unable to confirm a meeting had taken place but that it was "up to him" what he wrote.
The paper has admitted phone hacking celebrities between 2004 and 2006.
Rooney also tweeted: "Gonna get my lawyers to deal with phone hacking until end of season. So I can focus on helping MUFC win trophies. Thx for all ur support."
Rooney's wife Coleen said on Twitter: "Newspapers hacking into phones!! Desperate and Disgusting!!!!"
Notebook pages
A source close to the Manchester United player said he was "angry at the intrusion of his privacy" after Scotland Yard detectives told him he may have been targeted by private investigator Glenn Mulcaire who worked for the News of the World.
BBC Sport's Dan Roan said two detectives visited Rooney at the end of last week and showed him pages from Mulcaire's notebooks which listed his mobile phone number and those of his close associates.
Rooney confirmed the police visit earlier on Thursday.
The footballer was the subject of several high-profile News of the World exclusives in 2005 and 2006.
Rooney's agent Paul Stretford met Scotland Yard detectives three weeks ago and they told him he may also have been targeted by Mulcaire.
Mr Stretford is considering taking legal action but Rooney will wait until the end of the season before deciding on any potential case.
'Back of mind'
He has not been informed whether he will be asked to give evidence.
Rooney's spokesman Ian Monk has declined to comment.
A News of the World spokeswoman said there were no imminent plans to comment.
Earlier this month the News of the World's owner, News International, apologised over the phone-hacking scandal and said it would admit liability in some cases.
It set up a compensation fund understood to total £20m for the victims of phone hacking.
Those involved are believed to include actress Sienna Miller, former Culture Secretary Tessa Jowell, designer Kelly Hoppen and sports broadcaster Andy Gray.