Almost extinct Red Kite makes comeback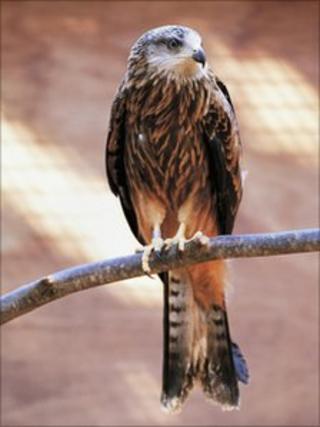 The RSPB is celebrating the "remarkable" comeback of the Red Kite, a bird which had almost become extinct in Britain.
For more than 400 years the bird of prey was killed as vermin and by the 1960s there were just 20 pairs.
But the organisation's 2011 Big Garden Birdwatch survey recorded as many as 2,000 breeding pairs, an increase of over 130% since last year.
Its return began in the 1990s with re-introductions in several areas.
At the turn of the 20th century it was extinct in England and Scotland with just a handful of breeding pairs in the Welsh valleys.
The Welsh birds began to expand slowly in the 1980s with legal protection, reduced persecution and efforts of conservationists, but remained very vulnerable.
Elegant birds
A series of reintroductions began across Britain in 1990, including the Black Isle in Scotland and the Chilterns in Buckinghamshire.
Now, the bird has moved to number 53 in the rankings of most frequently seen birds in gardens following the public survey.
Only the Red Kites that landed in gardens were officially recorded, but the RSPB said there were numerous comments on survey forms and online forums suggesting more were seen flying over gardens.
Jeff Knott, from the RSPB, said the increase was good news for both the public and the birds: "Red kites are one of our most elegant birds of prey and they are a spectacular sight. I defy anyone that gets to see them flying over their garden not to be in awe of them.
"They were once almost completely eradicated from the UK and thanks to the work of organisations like the RSPB and its partners, and local people that have grown to love these birds.
"They are the subject of a remarkable success story which we hope will long continue."