Making a stand against the royal wedding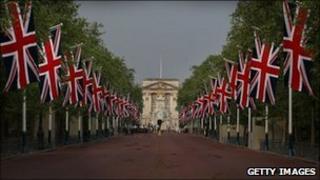 While the royal wedding will be a day of joy and celebration for many, for others it is the chance for their protests to be heard.
At the forefront of dissent will be anti-monarchy campaign group Republic, which will hold a Not the Royal Wedding alternative street party in central London during the day of events at Westminster Abbey.
Republic will be "celebrating democracy and people power rather than inherited privilege".
The group is also behind a similar event at a pub in Manchester, and is publicising anti-monarchy plays to be performed in Cardiff and South Shields.
'Publicity stunt'
Graham Smith, spokesman for Republic, told the BBC News website: "We need to get across the fact that the whole country isn't interested in the royal wedding and a sizeable minority is against the monarchy. We need to raise awareness of this issue.
"We're turning it around the other way because we see the wedding as a stunt by the monarchy. They're putting on the wedding on this scale as a PR stunt.
"We have a responsibility to the many people in this country who oppose the monarchy to make a point."
The London event was initially blocked by Camden Council - after businesses raised concerns about loss of trade - and was switched from Earlham Street in Covent Garden to nearby Red Lion Square in Holborn.
Elsewhere, Islamist group Muslims Against Crusades said it had dropped plans to protest after its application for an event outside Westminster Abbey was rejected.
Nationalist group the English Defence League (EDL) had threatened to hold a counter-demonstration if the police granted permission to Muslims Against Crusades.
The EDL has since said no counter-protest will be held.
Meanwhile, a separate protest group with Middle Eastern links has warned police it is planning disruptions, after a man walked into a London police station to formally apply for permission to demonstrate.
Bail bans
Police have powers to ban any major protests along the main route the royal couple will take but are unable to rule out "static" protests taking place at other nearby locations.
Scotland Yard has warned that anyone attempting to disrupt the royal wedding would face a "robust" response.
There will be 5,000 officers on duty to ensure it is a "safe, secure and happy event".
Some 60 people who were arrested following violence surrounding the recent student and TUC marches will be banned from central London on the day as part of their bail conditions.
Six people have been arrested in recent days amid fears they could be planning similar disruption and police were expected to make several more arrests.
Commander Christine Jones, who is in charge of the police operation, said: "We would be wrong not to consider spontaneous protest as part of our contingency planning.
"But let us make it absolutely clear - this is a day of celebration, joy and pageantry. It is a fantastic day for Britain.
"Any criminals attempting to disrupt it, be that in the guise of protest or otherwise, will be met by a robust, decisive, flexible and proportionate policing response."