BBC's Andrew Marr 'embarrassed' by super-injunction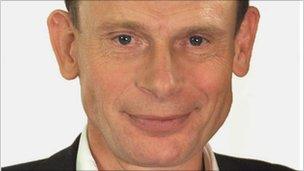 BBC presenter Andrew Marr has revealed he took out a super-injunction to protect his family's privacy - but says he will not pursue it any further.
Mr Marr told the Daily Mail he was "embarrassed" about the gagging order he took out in 2008 to suppress reports of an affair with a fellow journalist.
"I did not come into journalism to go around gagging journalists," he said.
Private Eye editor, Ian Hislop, said Mr Marr, as a journalist himself, had been a "touch hypocritical".
Mr Marr's comments follow a number of recent injunctions which have banned the identification of celebrities.
Mr Hislop, who has twice challenged Mr Marr's super-injunction, said: "As a leading BBC interviewer who is asking politicians about failures in judgment, failures in their private lives, inconsistencies, it was pretty rank of him to have an injunction while working as an active journalist.
"He knows that and I'm very pleased he's come forward and said 'I can no longer do this'."
In his interview in the Mail, Mr Marr said injunctions seemed to be "running out of control" and he confirmed he had taken one himself to prevent the publication of details about the affair, which happened eight years ago while he was BBC political editor.
At the time he believed he had fathered a child with the woman, but later found out through a DNA test this was not the case.
He said: "Am I embarrassed by it? Yes. Am I uneasy about it? Yes."
But he added: "I also had my own family to think about, and I believed this story was nobody else's business."
Mr Marr - who hosts a Sunday politics show on BBC One - went on to say he knew injunctions were "controversial, and the situation seems to be running out of control".
"There is a case for privacy in a limited number of difficult situations, but then you have to move on. They shouldn't be forever and a proper sense of proportion is required", Marr said.
Outgoing Chairman of the BBC Trust, Sir Michael Lyons, has said he was unaware that Mr Marr had taken out the super-injunction.
"This has clearly been a challenge for him and I think that is why he has spoken out about it," he said.
Last week, Prime Minister David Cameron said he felt "uneasy" about judges granting injunctions to protect the privacy of powerful individuals.
He warned judges were using human rights legislation "to deliver a sort of privacy law" and argued that Parliament, not judges, should decide on the balance between press freedom and privacy.
The Guardian's investigations editor, David Leigh, who was served with a super-injunction last year while investigating oil trading firm Trafigura, told the BBC they were a "menace".
He added: "Nobody wants children to go crying home from school just so the tabloids can make a few pounds by revealing people's sex lives.
"But the problem that Andrew Marr's revelation has highlighted is that super-injunctions don't just involve the tabloids... they spread like a disease and they cause serious problems for serious papers."
But media lawyer Charlotte Harris, who has represented several celebrities, said: "This case gives us an incredible insight and it might take us further in the debate as to where we draw the line."
BBC media correspondent Torin Douglas said Mr Marr's decision was unlikely to influence others.
"He's a special case. Because he is a journalist he felt particularly embarrassed. Others are not in the position where they think the freedom of the press is more important than privacy," he said.
Our correspondent said there were about 30 super-injunctions currently in place, but by their very nature no-one really knew for certain.
Last Wednesday, High Court judge Mr Justice Eady agreed to issue a "contra mundum" order - effectively a worldwide ban - in the case of a man who sought to prevent publication of material about his private life.
Such orders were previously used to stop the publication of details about the killers of James Bulger, when a court ruled that there was a "strong possibility" that their lives would be at risk if they were identified.
A contra mundum order is intended to apply forever, and applies to everyone - as opposed to forbidding the publication of details by a specific newspaper or journalist.
In a separate case, a married Premier League footballer who reportedly had an affair with Big Brother's Imogen Thomas, won the right to continue his anonymity.
Related Internet Links
The BBC is not responsible for the content of external sites.