Real IRA makes threat to PSNI officers in statement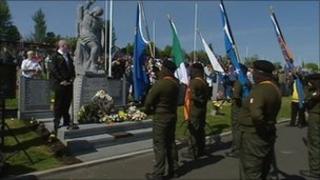 The dissident republican group, the Real IRA, has threatened to kill more police officers and declared its opposition to the Queen's first visit to the Irish Republic next month.
A statement was read out by a masked man at a rally organised by the 32 County Sovereignty Movement in Londonderry on Monday.
It was organised to mark the anniversary of the 1916 Easter Rising.
Northern Ireland has been on a high state of alert in recent days.
In a statement read out at the City Cemetery, the Real IRA said police officers would be targeted "regardless of their religion, cultural background or motivation".
On the Queen's visit, the masked men said: "The Queen of England is wanted for war crimes in Ireland and is not wanted on Irish soil."
The police have asked the public in Northern Ireland to be "particularly vigilant" over the Easter holiday period due to the severe threat level posed by terrorists.
On Saturday night, a haul of suspected bomb-making equipment was found by the PSNI in south Armagh.
The Real IRA killed two soldiers in Antrim two years ago, and last year exploded a car bomb in Derry.
The 32 County Sovereignty Movement is regarded as the political wing of the Real IRA.
The dissident republican terrorist group said it was responsible for carrying out the Omagh bombing which killed 29 people and unborn twins in 1998.