Tributes paid to bomb disposal expert Capt Lisa Head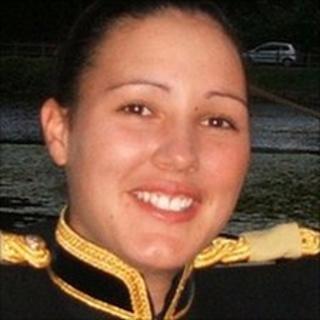 Tributes have been paid to a female bomb disposal expert who died in Afghanistan doing what she had said was "the best job in the world".
The family of Capt Lisa Jade Head, 29 and from Huddersfield, West Yorkshire, said "no-one was more loved".
Her commanding officer said she was a "passionate, robust and forthright individual" who lived life to the full.
Capt Head died in hospital on Tuesday from injuries sustained in an explosion while clearing roadside bombs.
She is only the second female member of the UK armed forces to die in Afghanistan in nearly a decade.
Her death takes the number of British military personnel killed in Afghanistan since 2001 to 364.
Capt Head, from 11 Explosive Ordnance Disposal Regiment, Royal Logistic Corps, died at Birmingham's Queen Elizabeth NHS Hospital after the explosion in Helmand province on Monday.
She had been trying to neutralise IEDs (improvised explosive devices) and having successfully made one device safe, she was fatally injured while dealing with a second.
'Infectious smile'
Her family issued a statement through the MoD: "We wish to say that we are extremely proud of Lisa.
"Lisa always said that she had the best job in the world and she loved every second of it. Lisa had two families - us and the Army. Lisa had a fantastic life and lived it to the full. No-one was more loved."
Her commanding officer, Lt Col Adam McRae, said she was "a self-assured, highly-effective operator and a well-liked leader" who would be "an enormous loss".
"Captain Lisa Head will be remembered by the officers and soldiers of the regiment as a passionate, robust and forthright individual who enjoyed life to the full - be it at work, on the sporting field or at the bar.
"She was totally committed to her profession and rightly proud of being an ammunition technical officer. She took particular pride in achieving the coveted 'high threat' status which set her at the pinnacle of her trade.
"The regiment, her colleagues and friends will miss her infectious smile and dry wit. She sits proudly alongside our recent fallen, several of whom were her close friends which I know inspired her to deploy to Afghanistan."
Capt Mike Kennedy, who worked alongside the soldier, said she was "the bravest and most courageous woman" he had ever met.
"She typified the spirit of the ammunition technical officer, making the long and lonely walk into the face of danger and adversity for the sake of others," he added.
L/Cpl Michelle Arnott said she was "the best boss".
"She had a fantastic sense of humour and drive," she said. "You could always go straight to her for anything, whether it be work-related or not."
Capt Head was born in Huddersfield, West Yorkshire, and studied at the town's university before going to the Royal Military Academy at Sandhurst.
She was commissioned into the Royal Logistic Corps (RLC) and initially trained as an Air Transport Liaison Officer, deploying to Iraq in 2006 and Afghanistan in 2007.
Capt Head, who was based in Didcot in Oxfordshire, deployed to Afghanistan on 27 March and was based in Patrol Base 4 in the Nahr-e-Saraj District.
The only other female member of the Armed Forces to die in Afghanistan was Cpl Sarah Bryant.
The 26-year-old was killed along with three colleagues when their Snatch Land Rover was blown up by a roadside bomb as they crossed a ditch in the Lashkar Gah area of Helmand province in June 2008.