Royal Wedding: Cameron to wear morning suit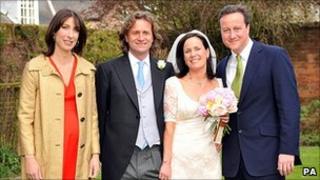 Prime Minister David Cameron has announced he will wear a morning suit to the Royal Wedding, scotching reports he would opt for a lounge suit.
A Downing Street spokeswoman said this was not a U-turn and had always been his plan, but she admitted reporters had been given the wrong impression.
Nick Clegg has said he plans to wear "a nice morning suit", although he told the BBC he did not have it yet.
Labour leader Ed Miliband is also believed to be planning to wear tails.
There had been press speculation Mr Cameron had decided against a morning suit in case it made him appear a "toff".
Pictures of a young Mr Cameron dressed in a tailcoat, from his days in the exclusive Oxford University Bullingdon Club, have been used in the past by Mr Cameron's political opponents to suggest he is out of touch with ordinary voters.
Conservative London Mayor Boris Johnson, another former member of the Bullingdon, is planning to wear a morning suit - the traditional form of dress for formal Royal occasions - to the wedding.
The prime minister's intended attire was the subject of debate on the letters page of Wednesday's Daily Telegraph.
One reader urged Mr Cameron to "show some respect" and another recalled: "I was always told the menfolk at a wedding should wear their smartest attire as a compliment to the bride."
However, another correspondent demurred, reminding readers: "Formal wear is now considered 'common' in some circles."
Mr Clegg laughed when asked about his outfit choice.
"I don't actually own one and I haven't got one yet, but I intend to wear a nice morning suit," he told the BBC.
A highly-placed Labour source told the BBC: "Ed Miliband will wear what's expected."
"All eyes will be on William and Kate and he does not want to draw attention to himself," the source said, adding that, as it "looks as if it's going the way of tails", then that is what Mr Miliband will wear.
"He will not be making a political statement."
The marriage of Prince William and Kate Middleton takes place at Westminster Abbey on 29 April.
The Queen and the Duke of Edinburgh held a meeting with Ms Middleton's parents on Wednesday, where it is is believed they discussed the arrangements for the ceremony.
The guests include footballer David Beckham, film director Guy Ritchie and former England rugby coach Sir Clive Woodward.