Hot weather forecast across UK for Easter weekend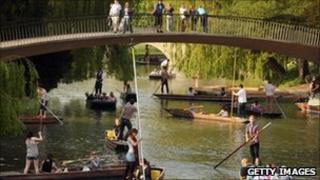 Most of the UK looks set to bask in hot sunshine this weekend as the high temperatures are forecast to continue.
The good weather comes as many take advantage of the Easter break, school holidays and royal wedding bank holiday to take an extended break.
Large parts of the country have had warm sunshine for the past week.
Meanwhile, the RSPCA has reminded pet owners about the dangers of leaving animals in hot cars, conservatories or caravans.
A BBC Weather Centre spokeswoman said: "The average temperature in London is usually 14 degrees at this time of year but today we are forecasting 26 degrees.
"But it's not just London. The whole of England, Wales and Northern Ireland can expect sunshine over the next few days."
She said Scotland could expect sunny intervals but more cloudy weather.
She said the good weather was expected to last over the whole weekend but they were not forecasting beyond Monday.
Abta said two million Britons were due to head abroad from Maundy Thursday (21 April) to the following Tuesday, with Spain being the favourite destination.
The enhanced content on this page requires Javascript and Flash Player 9
Map Key
Land
Cloud
Lakes, Rivers & Sea
Fog
Light
Heavy
Frost
Light
Heavy
Pressure Fronts
Cold
Warm
Occluded
Rain
Light
Heavy
Extreme
Snow
Light
Heavy
Temperature tab only
Temperature (°C)
More details from BBC Weather