Royal wedding: The security challenge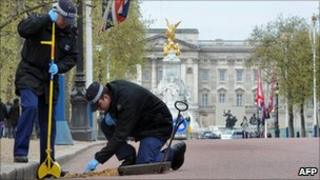 As final preparations for the royal wedding get under way, the police are working around the clock to ensure that no security breach or incident should disrupt proceedings on Prince William and Kate Middleton's big day.
It is 1.33 miles from Westminster Abbey to Buckingham Palace, the route the couple will take as newlyweds. For the Metropolitan Police, protecting them all is a massive security challenge. There will be 5,000 police officers on duty or in reserve.
The risk of some sort of incident is not easy to calculate. The police must take into account not only the likelihood of something happening but also the impact, should it happen.
For example, the chance of someone in the crowd being motivated to bring a firearm and to shoot at the procession is unlikely. But the potential threat is something senior officers have to take very seriously.
Or what if an anti-monarchist tried to throw a paint bomb at the royal carriage? This wouldn't cause injury (except to the Met's reputation), but is far more likely to happen, and therefore a threat.
Police will also on the lookout for possible attacks by radical Islamists. Since 7/7 Britain has experienced a series of such threats - and one, the attempt to blow up Glasgow airport in 2007, came close to being carried out.
After the recent discovery of a bomb in Newry, County Down, and the government's decision to raise the threat of an Irish dissident attack from moderate to substantial, this is another cause for concern for the security services.
With this in mind, the police have already begun systematic searches of drains, lamp-posts, traffic lights and other street furniture. Once checked, a tamper-proof sticker is applied to any door or cover behind which a bomb could be placed.
Snipers and sniffer dogs
The route is one the police know extremely well. It has been used countless times for royal ceremonies and crucially almost every building along the way is owned by the government. It would be difficult for someone with a weapon or bomb to gain access.
There will be snipers on rooftops and a police "eye in the sky" helicopter with a camera capable of identifying faces in the crowd. Police sniffer dogs will check the route and the Abbey in advance.
The police have turned down a request by the group Muslims Against Crusades to march outside Westminster Abbey, though discussions continue and a static protest can't be banned.
After the recent wave of street demonstrations, during one of which a group surrounded a car carrying the Prince of Wales and the Duchess of Cornwall, there are concerns that some radical groups might try to get into the route and close to the royal vehicles.
To counter this, Scotland Yard is considering pre-emptive action against known activists, some of whom may be arrested in advance based on the suspicion they may be plotting. About 60 people are banned from entering the area around Parliament under their bail conditions, and will be reminded of the fact.
On the wedding day it is possible objects might be thrown at the royal procession. There is evidence that breakaway protesters during the TUC demonstration on 26 March had home-made paint bombs. A number of fireworks were let off.
The main police effort will centre on monitoring the crowds, being prepared for anything to happen.
Superintendent Elaine Van-Orden, who is responsible for the Mall on the day, says police will be primed to act.
"We would very quickly take decisive and quick action. We have a very robust policing plan. There will be no messing around. This is a celebratory event, people want to see the royal couple on the balcony, they do not want to see people demonstrating."
Looking for trouble
And, police acknowledge, any protester along the route will be surrounded by well-wishers who might well take matters into their own hands by forceably apprehending anyone trying to attack the couple.
Former royalty protection officer Ken Wharfe says at least one of the footmen on the royal carriage is likely to be armed, as was the case in the 1981 wedding of Charles and Diana. But firing a weapon would be an absolute last resort.
"The use of firearms in those circumstances would be very unwise simply because there are metalled roads, and innocent people standing nearby and any ricochet would cause huge problems."
The Metropolitan Police will concentrate instead on spotting likely troublemakers in advance, using plain-clothes officers in the crowd and uniformed men and women along the route.
A specialist Fixated Threat Assessment Centre is identifying people who have an unhealthy interest in the royals and, in some cases, paying them a visit.
There are three levels of stop-and-search powers the police can use. At any point they can search someone they believe is suspicious. They could also issue what is known as a Section 60 order, requiring people wearing face masks to remove them.
There are powers under anti-terrorism legislation to allow searches and arrests to prevent an attack. Similar rules were used during the visit of the Pope to Britain to apprehend a group of men who had been overheard talking of the possibility of attacking him.
For senior officers the scenario of someone getting close to the royals is unthinkable. This will be an event which may be watched by a billion people.