Australia deports Clifford Tucker to UK over crimes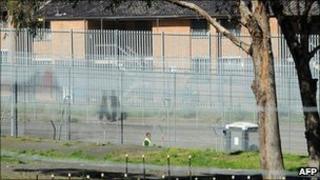 A British man is being deported to the UK from Australia, where he has lived for more than 40 years, because of his criminal record.
Clifford Tucker, 47, has been expelled after the Australian government cancelled his visa over a series of crimes, including attempted murder.
Officials said the father-of-three posed an "unacceptable risk of harm".
His family emigrated when he was six but he never became a citizen. He is due to arrive at Heathrow later.
As a teenager, Tucker was jailed for 12 years for shooting and seriously wounding a police officer.
Issues over his visa first came to light in 2009 when he went on holiday to Bali and the government cancelled it later that year when he was convicted of assault.
The BBC's Phil Mercer, in Sydney, said Tucker's various appeals against deportation had failed.
"His family insist he is a reformed character who has no friends or relatives in the UK and suffers from a severe mental illness," he added.
'Completely shattered'
Tucker, who had been living in Adelaide, was being kept at the Villawood immigration centre in Sydney prior to his deportation.
Speaking to the Australian newspaper before he was deported, he said: "I'm not a career criminal, I haven't committed any crimes since 1999 other than a minor assault.
"The only reason I came to their attention was because I went to Bali and because I voluntarily told them I had a criminal history."
He told the paper he was "completely shattered" to be leaving his children, aged 16, 15 and 12.
His lawyer Stephen Kenny told the paper: "If he's a ratbag, he's one of our ratbags. He's done the crimes and he's paid for the crimes. This is quite an inhumane punishment, far beyond the treatment he deserves."
Australian Immigration Minister Chris Bowen said in a statement: "The government takes very seriously its role in protecting the Australian community from unacceptable risk of harm from criminal or other serious conduct by non-citizens.
"The decision to cancel a visa is not taken lightly and balances the protection of the Australian community with a range of factors, including the length of time in Australia, family and links to the Australian community."
In 2008, Australia deported a serial paedophile back to the UK at the end of his 12-year jail term.
Raymond Horne had reportedly moved from the UK to Queensland in 1952 aged five and started offending in the 60s.