Newspaper review: Papers focus on vote referendum fight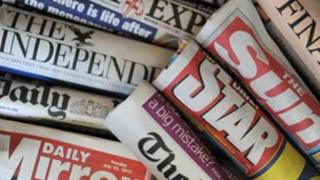 Seventeen days before the referendum on whether to change the voting system for Westminster elections, the Times considers the latest moves in what it believes is becoming a vicious fight.
It describes David Cameron's decision to appear alongside former Labour home secretary John Reid to argue the case against the AV system, as unprecedented.
The Sun welcomes the prime minister's intervention in the campaign.
It says it is vital that he tackles the biggest problem - public confusion.
Fractious campaign
The case for a "Yes" vote in the voting system referendum will be made by Business Secretary Vince Cable and Labour leader Ed Miliband.
The Daily Mail sees their involvement as a dramatic stepping up of an increasingly fractious campaign.
The Guardian says both Mr Miliband and David Cameron are expected to seek to raise the tone of the debate.
Writing in the Independent, Mr Miliband says he believes the alternative vote system will improve politics.
Damning report
The Daily Mail takes the government to task over its commitment not to cut the overseas aid budget.
It believes the policy is becoming even harder to justify in the light of an audit of the EU's aid programme.
The paper says the damning report found that money was being squandered on white elephant projects and subsidising corrupt regimes in the third world.
The Daily Express is outraged that UK money was used to pay Belgians to teach Africans to dance in Burkina Faso.
Twin chance
The Independent's sister paper, the I, sums up the closure of part of the M1 with the headline "Road to nowhere".
The Sun contrasts the delay repairing the damage caused to the bridge with Japan where roads destroyed by the tsunami have already been rebuilt.
The Daily Mail features two sibling sets of identical twins, the only ones in Britain to have the same birthday.
Elisia and Dolcie Bageban, from Tyneside, arrived prematurely on their brothers' birthday on 27 February.