Libya crisis: UK in talks over 'dire' humanitarian need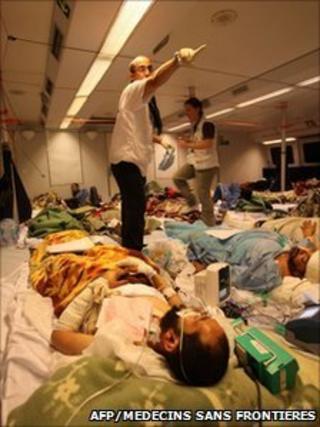 The UK is to hold "urgent talks" at the United Nations about the "dire" humanitarian crisis affecting residents in western Libya.
The rebel-held western town of Misrata has been under attack from Colonel Gaddafi's forces for over five weeks.
On Sunday, six civilians were reported to have died and more have been injured in a barrage of rocket fire.
Prime Minister David Cameron said the UK would not invade and it was important to adhere to the UN mandate.
Opponents of Libyan leader Col Gaddafi also say at least 47 people were wounded when his forces shelled Misrata, on Sunday morning. Pro-government fighters are also said to have shelled Ajdabiya in the east.
UK International Development Secretary Andrew Mitchell will discuss plans to increase aid and medical supplies and ensure better access during a meeting at the UN in New York, on Monday.
The BBC's Peter Biles, in Benghazi, said hundreds of civilians had left Misrata in recent days and there was "increasing anxiety" among rebel leaders and doctors about the situation in the city where 300,000 people live.
Members of the Transitional National Council have called on Nato to target Col Gaddafi's long range rocket launchers, our correspondent added.
On Sunday, about 100 wounded people from the city were taken to Tunisia by a boat operated by medical charity Medecins Sans Frontieres.
The UK's Department for International Development said: "Reports from within Libya indicate that the humanitarian situation in certain areas in western Libya, where international agencies have no access, is dire."
It said approximately 300 civilians had been killed and a further 1,000 injured in Misrata since late February.
Agencies have said there are shortages of critical supplies and attacks targeted against civilians and medical facilities, preventing staff from working.
There is concern medical centres are operating at maximum capacity and some severely injured people cannot leave the city for treatment because of the fighting.
The UN is also said to be worried that there could be outbreaks of water-borne diseases.
DfID said the UK had supported a range of international organisations and British-funded relief items had already reached a number of areas, including Misrata.
But it added: "The continued violence and lack of access for humanitarian support is making conditions on the ground for civilians worse."
Mr Mitchell said the humanitarian situation in Misrata was "of great concern".
"It is vital that we continue to get help, such as food, water or medical supplies, through to people. Humanitarian agencies must be given free and unfettered access to Misrata and other areas affected by fighting," he said.
Libya's government, meanwhile, has denied a suggestion from Human Rights Watch that its forces are using cluster bombs, which are banned by more than 100 countries, in Misrata.
Earlier, speaking to Dermot Murnaghan on Sky News, Mr Cameron said the terms of the UN resolution on Libya are a "restriction" on the coalition powers who have been trying to protect civilians and enforce a no-fly zone.
"We're not occupying, we're not invading, that's not what we're about. And that is obviously a restriction on us, but I think it is the right restriction.
"It's because we've said we're not going to invade, we're not going to occupy, this is more difficult in many ways, because we can't fully determine the outcome with what we have available.
"But we're very clear we must stick to the terms of the UN Security Council resolution - and we must keep the support of the Arab world."