A disastrous night for Bomber Command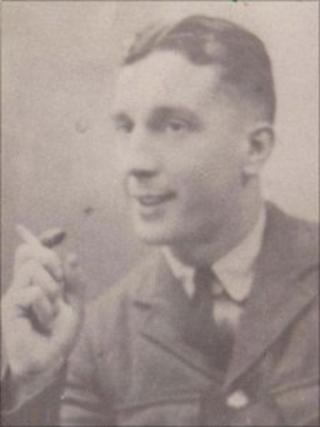 A memorial to the crew of a Lancaster bomber is due to be unveiled in Holland, 67 years after it went missing on a disastrous night for Bomber Command.
Of the seven-man crew, only three bodies were ever found. One was my great-uncle and I spent 10 years tracing the story of that night, and reuniting their families.
It began with a faded photograph of an airman and a single slip of paper outlining the bare details of what happened that snowy night of 19-20 February 1944.
The photograph was of my great uncle, Thomas Roe, and had been one of my late grandmother's treasured possessions. He'd been a flight engineer on Lancaster bombers, serving with 12 Squadron based at Wickenby, Lincolnshire.
The piece of paper was the "Loss Card" relating to Lancaster ND 410 PH-Y. In barely-legible handwriting it bore the names of the crew, their target for that night - Leipzig - and the fact that three bodies were eventually recovered from the Dutch coastline.
The other four were all missing, presumed dead.
Old-fashioned research
I'd heard plenty of stories during my childhood of Tom Roe - a noted rugby player, a great dancer and a bit of a lad. I became curious about his fate and ten years ago decided I'd try and find out more.
This was before the internet shrank the world of research and my first move was to the Public Records Office as it was then called, at Kew in southwest London.
That led me to the squadron's operational record book and a little more detail about what happened that night.
It contained the printed names of his crew mates: Pilot Paul Wright; Navigator Evelyn Travers Clarke; Bomb Aimer Angus Joseph Gillis from Canada; Wireless Operator Bruce Stratton; Tail Gunner Terrance White and Mid Upper Gunner Barney White (no relation).
I learned that the Leipzig raid was Bomber Command's heaviest loss of the war up to that point. The weather forecast was wrong. The winds were much stronger than predicted and planes had to fly doglegs or circle repeatedly to arrive at the target on time. And crucially, the German night-fighters followed them all the way to Leipzig and back again.
Bomber Command lost 79 planes that night and more than 550 men were killed or missing.
It took years, but I managed to track down surviving relatives and their families. And through them came little stories that brought the crew alive.
Social mix
This was a group that perfectly encapsulated the social mix of those who fought and died alongside each other in Bomber Command - more than 55,000 of them.
I learned how Terry White - who worked in a shoe repair factory in Manchester - would serenade the crew by playing Liszt's haunting Liebestraum on his violin, how Tom Roe would dance the night away at the Ritz in Manchester when the crew would visit Terry's family. Barney White from Alfreton in Derbyshire was a fishmonger's delivery boy.
Paul Wright had interrupted his studies at Oxford University to join up after his brother was killed with Bomber Command. Evelyn Travers Clarke - a jazz fan and languages scholar - had left Cambridge University to join the RAF. A fortune teller had told him he would meet his death in water.
Bruce Stratton had recently married and his wife was expecting their first child when he was killed.
But what had happened to the plane remained a mystery until last year.
We knew Tom Roe's body was washed up on the Island of Overflakkee south of Rotterdam and was buried in the village cemetery at Ouddorp. Angus Gillis and Terry White were recovered from beaches a few miles further south. Records revealed that the return route of the bomber stream went directly over Overflakkee.
Lasting memorial
We now know that Oberst Gunther Radusch - a German night-fighter ace - shot down a four-engine bomber in that same area on that night. As most of the planes lost on that operation have been identified, it is likely that Radusch shot down ND 410.
It is possible that the Lancaster plunged into the Grevelingen lake or another of the sea lanes surrounding the islands.
Almost 70 years on and a local history group on Overflakkee has erected a small memorial and information panel dedicated to the "lost" crew. It will be unveiled during a civic ceremony attended by relatives from across the UK, Canada and the US.
Terry Galvin is a nephew of Terrance White, the rear gunner. He was given his uncle's Christian name as a living memorial.
"It was their way of remembering him as they were unable to visit his grave in Holland at the time," said Mr Galvin.
"I think what they are doing over there is a remarkable thing, given the length of time that has elapsed. It's a way of making sure that the names of the crew won't fade away as so many others have done."
He will also be there as a representative of Julia Cook, who was engaged to Terry White at the time.