Rebekah Brooks's 'reporters paid police' claim probed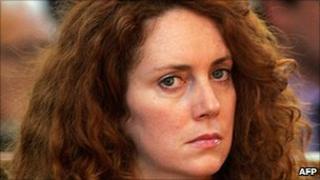 A criminal investigation into claims journalists paid police officers for information is being considered by Scotland Yard, it has been confirmed.
Former News of the World editor Rebekah Brooks (nee Wade) told a Commons committee in 2003 journalists "had paid police for information in the past".
Last week Mrs Brooks denied she had any "knowledge of any specific cases".
It comes ahead of a High Court meeting on Friday relating to News of the World phone hacking allegations.
News International said it was not currently commenting.
'Scoping exercise'
In a letter to Keith Vaz MP, chairman of the home affairs committee, Assistant Commissioner Cressida Dick said police planned "to conduct a scoping exercise to establish whether there are now any grounds for beginning a criminal investigation", following the 2003 comments.
Mrs Brooks was editor of the News of the World from May 2000 until January 2003, leaving the post for the editorship of the Sun two months before she appeared before the Culture, Media and Sport committee.
She is now UK chief executive of Murdoch-owned News International, publisher of the Sun, News of the World and Sunday Times newspapers.
In a letter to the home affairs select committee last week, Mrs Brooks said her answer in 2003 had been in response "to a specific line of questioning on how newspapers get information".
"My intention was simply to comment generally on the widely-held belief that payments had been made in the past to police officers.
"If, in doing so, I gave the impression that I had knowledge of any specific cases, I can assure you that this was not my intention."
Police are also currently re-investigating allegations of phone hacking by journalists at the News of the World.
Three journalists have been arrested - one on Thursday and two last week - on suspicion of conspiracy to unlawfully intercept communications.
A meeting between a High Court judge and lawyers is scheduled for later on Friday could shed light on the wider situation.
News International recently apologised for "voicemail interception" between 2004 and 2006 and announced it was setting up a compensation fund to deal with "justifiable claims fairly and efficiently".
The BBC's legal correspondent Clive Coleman said more might emerge about which victims will accept compensation under the scheme, who will fight on, and how many more are bringing civil claims.
The BBC understands News International was ready to settle claims with eight people, including former Culture Secretary Tessa Jowell, her estranged husband, lawyer David Mills, designer Kelly Hoppen, sports broadcaster Andy Gray, and Joan Hammell, a former aide to ex-deputy prime minister Lord Prescott.
But it is rumoured there may be as many as 5,000 potential victims of phone hacking.
With so many cases, High Court judge Mr Justice Vos will try to find the most efficient way to establish common legal and factual issues, so that claims can be resolved as speedily as possible, our correspondent added.
'Full investigation'
Speaking to the BBC, Lord Prescott said police had confirmed 44 of his messages had been accessed.
He also called into question the takeover of BSkyB by News International's parent company, News Corporation, saying the deal should be witheld until a full investigation into the phone-hacking allegations.
Lord Prescott said he had received a response to a letter he had written to Culture Secretary Jeremy Hunt about the issue.
"He's replied to me to say 'the matters for criminal courts are about hacking and cannot interfere with the separate matter of media plurality'.
"He then goes on to say 'the merger involved two established reputable media enterprises when they discussed it in November'."
Lord Prescott said Mr Hunt "should not be actually saying this is a reputable company, it's one where there should be due diligence taken into account" to see whether it is fit for purpose to take over BSkyB.