Scouts: Girls overtake boys in admissions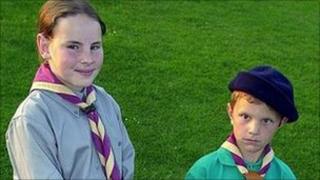 More girls than boys became scouts in the past year - the first time this has happened in the movement's history.
Some 4,330 girls and 3,796 boys joined between January 2010 and January 2011.
Female youth membership has risen by 6.9% in the past year and by 88% since 2005. Older girls were first allowed to join in 1976 but since 2007 girls have been allowed in all age groups.
The Scout Association also said that it now had a waiting list of nearly 33,500 youngsters wanting to join.
Some areas have seen a particularly high number of girls join up, the association added.
For example, more than twice as many girls as boys have signed up in Cambridgeshire.
But despite this growth, boys in the scouts still outnumber girls by over five to one.
Total membership, which includes adult members, has grown 14% from 444,059 in 2005 to 507,867 this year.
There are now 66,576 girls in the scouting movement, compared with 35,406 in 2005.
This increase stands in comparison to a 7.7% rise for boys, from 321,210 to 346,043.
'No surprise'
The association, which has allowed girls to join the top age range since 1976, says it needs more adult scout leaders to cope with the demand.
In 1990 girls were allowed to join all age ranges in some UK scout groups, but it was not until 2007 that the association ruled that girls may join any UK scout group, in any age range.
Chief Scout Bear Grylls said he thought it was "great" that more girls were joining.
"Being a Scout represents all that is great about life: adventure, life skills and friendship," he added.
"It is no surprise that so many girls are wanting to be part of that."
Girlguiding UK, a separate organisation for girls and young women only, says it has about half a million members, including about 100,000 adult volunteers.