G20 death: How drink took Mr Tomlinson to margins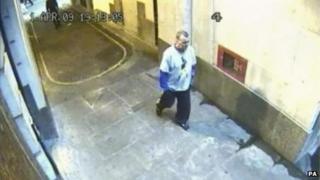 At the trial which has ended with the acquittal of PC Simon Harwood for manslaughter, CCTV and other footage was shown of Ian Tomlinson as he trudged through the City of London on his last evening alive.
In the film, which also featured prominently at the inquest into his death, 47-year-old Mr Tomlinson cuts a distinctive figure. And in evidence, there were repeated references to his walk - a nervous, shuffling gait that seemed to embody his long-term personal problems.
There is a glimpse of it before he is shoved to the ground by PC Simon Harwood in the footage of that infamous incident on 1 April 2009: Mr Tomlinson, hands in pockets, ambles forward, seemingly unfazed by or oblivious to the line of officers and police dogs snapping close behind.
PC Harwood said he had felt the 47-year-old's posture was "almost defiant".
On trial for Mr Tomlinson's manslaughter some three years later, the officer said: "From what I saw he looked like he wasn't going to move and was looking at the police as though he wanted them to move him away."
But Mr Tomlinson's widow, Julia, told the inquest her late husband always walked with his head down and his hands in his pockets - "even from the kitchen to the front room".
"This was partly because he had limited use of one of his hands - an old injury," she said. "But I would also think it is because he didn't like to impose himself in a situation and liked to show that he was no bother."
Although the death occurred on the fringes of the G20 protests in the City of London in 2009, it became clear Mr Tomlinson had accidentally got caught up among the crowds that day.
The picture that has since emerged is of a shy, devoted husband and father who had drifted away from his family and toward life's margins during many years of alcoholism.
Lengthening absences
Recalling the start of their relationship in about 1990, Mrs Tomlinson said: "I remember feeling that he was the best thing that had ever happened to me."
She already had five children, whom her new partner treated as his own, she said, and the couple would go on to have four daughters together.
Stepson Paul King said: "To convince someone else's kids that he is good enough to be their dad takes a lot. We idolised him."
But Mrs Tomlinson hinted at troubles in her late husband's past, during his upbringing in Derbyshire: "I think he had quite a difficult childhood and experienced quite a few disappointments. He came to London to make a fresh start."
They were just months into their relationship when problems surfaced because of his drinking. "I think he started turning to alcohol for relief after the time I got pregnant," Mrs Tomlinson said.
"I felt this was partly because of the pressure of his difficult upbringing and the family responsibilities he had taken on. For the first time in our relationship he started to disappear for short periods at a time."
Family members would often find him sleeping on the streets just a few miles away and bring him back home.
During the periods when he was sober and at home, Ian Tomlinson was a devoted family man - attentive, thoughtful and generous. But over the years his absences grew longer, until Mrs Tomlinson decided they were too unsettling for the children and asked her husband to move out.
"When he was with us, it was brilliant, but we all knew that Ian had an illness," said Mr King.
"I never blamed him when he left and never had a go at him for not being there all the time. We understood it was the drink."
Cherished memories
Ian Tomlinson spent much of his final years sleeping rough.
When he was caught up in the demonstrations of 1 April 2009, it is thought he was making his way back to a hostel that had been his home since the previous October.
PC Harwood conceded: "Now I've seen all the evidence and I know how poorly Mr Tomlinson was I'm sorry that I got involved, I shouldn't have hit him with a baton and pushed him."
Mr Tomlinson's days were filled with casual work as an assistant at a couple of newspaper stands in the City.
"In the morning, he used to get the shakes, and he had a drink," said newspaper stand owner Barry Smith, who described how Mr Tomlinson would drift to and from the stand - and continue drinking - throughout the day.
"But even if he had a drink, he was polite - a very polite man."
The men had been friends for about 20 years, Mr Smith said. "I loved him to bits - he was like a brother."
There is no apparent condemnation of Mr Tomlinson's drinking by his loved ones, who cherish memories of the happy times they shared with him in spite of the problem they consider him to have been powerless to control.
"Although we spent time apart, we loved each other and neither of us wanted to separate or remarry," Mrs Tomlinson told last year's inquest. "I still wear my wedding ring today."
Stepson Paul King said: "We still have his ashes in the living room at home at my mum's. We are just not ready to let him go yet."