SS film links officer with war crimes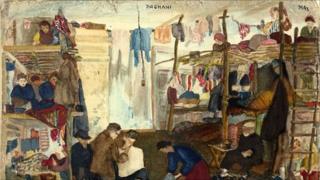 An historian is claiming that a can of film found in a Devon church could help finally prove the guilt of a suspected Nazi war criminal.
The film, which was rescued from the rubbish during a clean-out at Cullompton Baptist Church back in 2006, turned out to be a home movie featuring senior SS officers.
The 11 minutes of grainy black-and-white footage shows images of high-ranking Nazis off-duty, drinking tea, and chatting with women working in their office.
One man is seen to dominate the proceedings. He is pictured inspecting a camp, ordering other officers about, and taking delivery of a column of slave labourers.
Now Dr Harry Bennett, associate professor of modern history at Plymouth University, says he has identified the main figure in the film.
After extensive research, Dr Bennett is convinced that the man is SS officer Walter Gieseke, a Nazi in charge of building a 1,000-mile road across Ukraine that cost tens of thousands of slave labourers their lives.
Dr Bennett says that the film was made in 1943 and shows the building of a road which was officially called the DG IV, but which became known as The Street of the SS.
The road was one of the largest building projects ever undertaken by the Nazis, and it was intended to take millions of Germans to a new breeding ground for the master race in the East.
Fifty-thousand Russian prisoners of war, 50,000 Ukrainians and 25,000 Jews were forced to work on the road. But, as Dr Bennett explains, this was not simply a building project.
"Death rates were high amongst the Russian and Ukrainian workers, but almost all of the Jews were murdered. They were worked to the point of exhaustion, forced to dig pits by the side of the road, and then they were machine-gunned to death. This was an extermination programme."
One man who was forced to work on the road was a Jewish artist named Arnold Daghani. He managed to escape, carrying with him sketches and paintings he had made, which he hoped would serve as testimony to the atrocities he had witnessed.
When the war ended Mr Daghani campaigned for 20 years to get those responsible for the road brought to justice.
Thanks largely to Mr Daghani's work, Mr Gieseke, and many other former Nazis, were eventually questioned by war crime investigators.
Mr Gieseke flatly denied having any direct involvement with the building of the road, and he was never brought to trial.
"Gieseke always maintained that he was simply a pen-pusher, with no knowledge of conditions on the road," says Dr Bennett, "but this footage from Cullompton blows that alibi out of the water. We can see him at the scene, hands on, very much the man in charge, he is responsible, he is powerful."
Mr Daghani spent the rest of his life painting images from the slave labour camps, and compiling lists of the dead, and of those he held responsible.
He died in 1985 a frustrated man, and his work is now held in a special collection at the University of Sussex.
Mr Gieseke died in 1974, taking many secrets with him to his grave, but he left behind a reel of film which could now, at last, show his true face to the world.
Quite how the film came to be in a Devon church remains unclear, but it was found among other film cans that had belonged to Reg Whitton, a member of the congregation.
Mr Whitton was known to be a film enthusiast, and he ran a haulage firm that carried out work across Europe at the end of World War II, but no-one knows exactly how he came by the film or why he kept it hidden for all those years.