Queen's diamond jubilee to be marked by Thames flotilla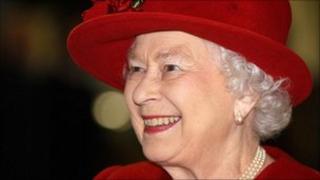 A 1,000-strong flotilla will sail along the River Thames in a celebration of the Queen's diamond jubilee next year, it has been announced.
The Diamond Jubilee River Pageant, on 3 June 2012, will be one of the main events of a four-day bank holiday weekend marking her 60-year reign.
The Queen will head the fleet, which will include vessels from the UK, Commonwealth, and around the world.
The pageant will be funded by private donations and sponsorship.
Crowds will be invited to line the Thames to watch the pageant, which is the first major public event marking the jubilee to be announced.
It is being organised by the Thames Diamond Jubilee Foundation, chaired by Lord Salisbury.
London Mayor Boris Johnson said the pageant would not only provide a "terrific focal point" for the commemorations, but would "demonstrate to the world London's pride in its heritage and traditions".
"I cannot conceive of a more fitting celebration of Her Majesty's 60 years on the throne than a majestic flotilla of vessels, large and small, winding their way along the iconic River Thames and showcasing our proud maritime history," he said.
The Queen will reach her 60th anniversary on the throne on 6 February 2012.
The celebrations will be focused around an extended weekend, from 2-5 June.
The flotilla is expected to be seven-and-a-half miles long and will feature a mix of private and commercially owned historic and modern boats - ranging from rowing boats and sailing ships to steamers, wooden launches and larger motorised craft.
The public will also be invited to take part with their own vessels.
It will be made up of five sections each separated by a "herald barge", the first of which will be a floating belfry of eight new bells cast by the Whitechapel Bell foundry in east London and commissioned by the 17th Century City Church of St James Garlickhythe.
Their peals will be answered and echoed by chimes from riverbank churches along the route.
Other barges will feature water jets and sprays - reminiscent of the old Thames firefighting boats. There will be live entertainment and music from the six decades of the Queen's reign, while a pyrotechnic barge hosts daytime fireworks and a mechanical flame-spitting dragon.
The parade will include representatives from the armed forces and the emergency services, plus passenger boats carrying up to 30,000 people.
The government has designated Tuesday 5 June 2012 as a bank holiday for the jubilee, while the late May bank holiday has been moved to Monday 4 June, to enable a four-day weekend of events.
Lord Salisbury said it would be the "greatest Thames flotilla for 350 years".
"I believe that we should recognise [the Queen's] 60 years of selfless public service with an event that can properly express our admiration and gratitude. The pageant is just that."